Moving from Texas to Florida? Moving to Florida is maybe one of the best decisions you could've made in your life when it comes to relocation. However, the weather can be harsh for newcomers, especially if they come from colder states like Texas. But don't fear. State to State Move is here to help you out by giving you some tips for adjusting to the Florida climate in no time. You will be ready to enjoy your summer to the fullest after you read our simple tips on how to get ready for the Florida weather. Check out the Florida weather guide for newcomers and find out what to expect.
What to expect from moving from Texas to Florida
Relocating to the "Sunshine State" is a dream come true for many summer lovers. That being said, moving preparations will take a little bit more time than usual. Our sunshine heaven does have long and very warm summers, which is awesome, but you can expect daily thunderstorms as well – they are almost the norm over here. So, apart from your usual packing and paperwork, you must prepare for the climate. That will involve buying some extra equipment. If you already have a lot of stuff, you will likely need movers to help you with that. If that's the case, our reliable long distance movers in Texas can give you a hand.
Wherever you go to Florida, you'll experience amazing opportunities that will change your life, from work to private life. Florida has a soul. The benefits of moving here are endless, from no state income taxes, a thriving and diverse job market, a wide range of activities, and great nightlife – you name it. All in all, Florida has it all. Wherever in Florida you move to, you won't regret your decision.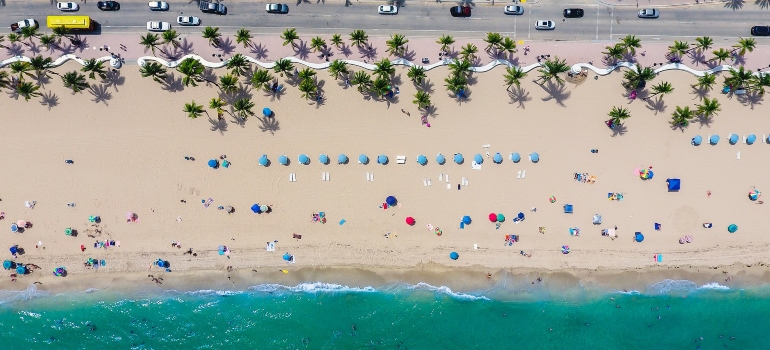 Florida's weather: heat, humidity & sunshine
When thinking about Florida, the first thing that springs to mind is the heat. Florida is very hot in the summertime and one of the warmest places on the United States mainland during the winter. If you are not a winter fan, then Florida is the place to settle down. However, with Florida being so sunny and humid all the time, you should take some precautions. The human body temperature can rise dangerously on those hot days with high relative humidity. That's because perspiration cannot evaporate and cool the body. So, with the high heat index, in Florida, more people die from excessive heat than from lightning.
On the bright side, frequent thunderstorms can trigger a rapid drop of 10 to 20 degrees in temperature. Those happen, on average, half of the summer days. That means you will have very comfortable weather for half your day usually. And you will never lack vitamin D. Florida winters are mild with periodic invasions of cool to occasionally cold air. And the coastal areas in all sections of Florida average slightly warmer temperatures in winter and cooler ones in summer. If you are not a big fan of rainy days, you should avoid northwestern counties and the southeastern end of the peninsula. The areas with the least amount of rainfall are the Florida Keys and interior regions of Lee County along Florida's southwestern coast.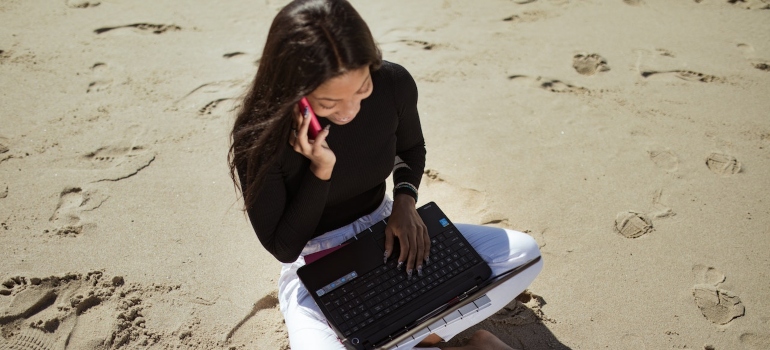 Thunderstorms, Lightning, and Tornadoes
Florida's rainy season lasts from May until around November. During these months, you can almost set your watch by the daily thunderstorm. Did you know that an area between Orlando and Tampa to the south along the west coast to Fort Myers and east to Lake Okeechobee is nicknamed the "lightning belt?" After all, Florida is the thunderstorm capital of the United States. The thunderstorms occur during afternoons and can be as brief as a few minutes or a couple of hours long. During these thunderstorms, you can experience heavy rain, some of the loudest thunder you've ever heard, and lightning that honestly stuns you. Those lightning strikes are usually breathtaking. You don't need to worry since, after the storm passes, you'll feel a lovely breezy Floridian evening.
Another thing you might encounter here in Florida is a tornado. April, May, and the summer months are peak periods for tornadoes in Florida. But again, no need to panic. Most of Florida's tornadoes are the weaker waterspout-type of storm. During February and March, the more severe tornadoes can occur mainly in the Florida Panhandle.
Get ready for the hurricane
Hurricane season tends to be between June and November. The peak months are late August and early September. It can be really disruptive if you don't prepare well. Visit the national hurricane center's website to track them.
Here are the steps you should take beforehand:
Sign up to volunteer or donate
Stash cash
Prepare your yard
Find a safe place to stay
Designate a contact person
Keep important documents together
Shop for food
Gas up!
How do you adapt to the Florida weather?
When it comes to adapting to Florida weather, elderly people and small children are particularly vulnerable to heat stress. Before you move, consider that the same applies to people who are on certain medications, are overweight, or have an alcohol habit. Many people in Florida do live there with the same issues. However, Floridians love their sunny heaven deeply and wouldn't want to give it away for anything.
On the other hand, some people do not encounter any hardships when adapting to Florida weather. All in all, Floridians love their sunny heaven deeply and wouldn't want to give it away for anything. Even though the heat can be a bit too much, there are many reasons why you should spend your retirement in Florida. There are some ways to handle the heat, but if you fall under one of those categories, you need to be extra careful. To keep yourself safe, the first step is hydration. Floridians freeze bottled water overnight and take a few bottles when getting out in the morning. They also always have sun protection at hand. And you should make sure to reapply it every couple of hours. If you're fair-skinned, please keep out of the sun when it's at its hottest point, which is usually midday.
Tips & tricks to help you adapt
How you will adapt to Florida's weather depends on whether you like it or not. However, there are some common tips and tricks on how to adjust to it without much stress:
Stay hydrated
Use cooling gadgets
Eat light food but include rich ingredients
Keep as many outdoor activities for early mornings and late afternoons
Adapt your wardrobe
Use sun protection, sunglasses, and hats
Stay hydrated
Florida really has one of the best climates in the US if you love hot weather and the sun. It's no wonder so many people move here just for that reason. However, that hot weather can bring many problems, especially for overconfident people. We can't tell you the number of times interstate movers Miami offers have helped someone move to Miami and seen them going to the beach right away. That's normal, but usually, they forget to prepare for it.
Some people do not encounter any hardships when adapting to hot weather. If you are lucky enough to work in a nice office space and have a good Air Conditioning system in your vehicle, you won't have problems. But, if you often have busy days that require being outside for most of the day, make sure to hydrate. Remember to drink your water! Go shopping for some lighter clothes and beach toys for the kids. If you have one at home, don't forget to pack a fan when moving to Florida. You will need it even if you have air conditioning in your new place. If you have trouble moving all of that to Florida, you can seek help from our cross country movers Florida offers, who are always more than able to help you.
Have "cool gadgets" at hand
Bring cooling gadgets with you to stay cool when moving from Texas to Florida. You can use a spray bottle, a fan, or an umbrella hat as first-aid cooling. And here's a tip on how to make a refreshing body mist. Use aloe vera, lavender (it helps with mosquitoes in the evening), lemon, coconut, or other skin nutritious oil. This won't only keep you hydrated, but it will prevent skin sunburns. Besides, you can add peppermint oil which cools.
Eat light
Try to avoid heavy foods such as fast food, and set your eating routine that includes fruits, salads, and soups. You can also freeze some food and make a smoothie. And don't forget to use additional vitamins (if necessary) but get vitamin D on the beach early in the morning.
Do outdoor activities in the early mornings and late afternoons
The sun is your great friend and ally but also the greatest enemy. Everybody loves to enjoy it, but it comes with its problems. That's why so many people have some skin protection at hand. For example, our Tampa cross country movers get a couple of strange looks when people see them with sunscreen. We understand sometimes it's unnecessary, but the sun constantly shines if you live in Florida. That's why the locals do their outdoor chores during the morning or later in the afternoon.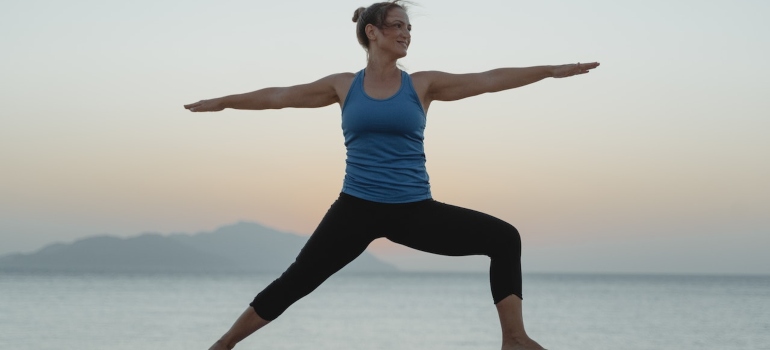 Adapt your wardrobe
The next logical step when it comes to tips for adjusting to Florida's climate is to adjust your wardrobe. There's no need for a coat or jacket in most parts of Florida. It's not really usual that you need them, so even if you want to keep them in a closet, keep them very deep in it. Even better, opt for our storage services to keep your seasonal clothes stored away for some time. There's no need for excessive clothing as it can really be very hot during the whole year in Florida.
Use sun protection, sunglasses, and hats
Last but not least, it's important to protect yourself from the sun using common ways, such as using sun cream with the strongest SPF possible, especially during peak hours. Besides, use sunglasses with UV protection and a straw hat. Being good protectors, these two accessories are also fashionable. And if you are on the beach, sit under a parasol. With proper protection, you'll get to enjoy Floridian weather.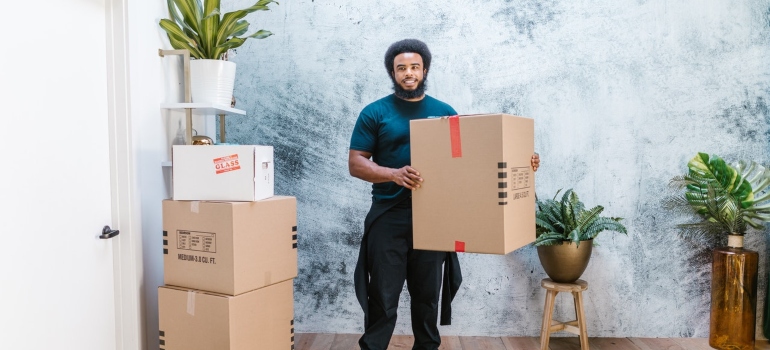 Don't forget to stick to your routine
Adjusting to Florida's weather is challenging but easy. It is important to stick to your daily routine to fully adapt to the weather. Do whatever makes you productive but try to follow the same routine patterns regarding hydration and food. This way, you won't have to worry about warm weather and spend time inside. Your daily routine will help you maintain fit and full of energy. However, don't forget to test different routine ways to find your perfect match. But don't force anything. Do whatever makes you feel energetic and productive. Enjoy Florida's weather and get some vitamin D and sea.
Final thoughts about Florida weather
Florida is a unique state. It's definitely among the best known worldwide, and so many people in the US and beyond want to live here. A good proof of that is that the biggest cities attract so many people from overseas. If you have your heart set on "The Sunshine State," nothing can stop you from fulfilling your dream. We are sure that you are actually going to enjoy Florida weather most of the time. Now, it's time to start packing and choosing your new hometown. We hope you'll follow our tips for adjusting to the Florida climate, as it can really be a big game-changer. Climate and weather might seem like a small piece of the puzzle, but they have a huge impact. Just contact State to State Move whenever you decide to move, and we will be ready to assist you!