In 1883, Mark Twain wrote: "It is hopeless for the occasional visitor to try to keep up with Chicago. She outgrows his prophecies faster than he can make them." To this day, Chicago continues to live by these words. With a skyline punctuated by skyscrapers, it is a perfect home for those who wish to live in a world-class metropolitan area. If you're thinking about moving to this outstanding city, there are some things you should consider before moving to Chicago. Then, after you've made your decision, State to State Movers will give you a smooth, stress-free relocation to your new home.
What is it like to live in Chicago?
There is a good reason why Chicago is one of the most-visited cities in the States. It's a city full of culture, rich in history, Michelin-starred restaurants, and great neighborhoods where everyone can find something to enjoy. It's home to 2,74 million people which makes it the third-most populous city in the United States. The city is very popular with corporate career climbers and students because of its thriving industries and higher education opportunities. Many residents from Houston are coming to Chicago looking for job opportunities. In case you're among those, get in touch with movers Houston to Chicago to get all the necessary information. As a matter of fact, people from all around the world relocate to Chicago. You may hear many different languages spoken around the city's lively neighborhoods.
The cost of living is what you should consider before moving to Chicago
According to Payscale, Chicago's cost of living is 23% higher than the national average. The city's housing expenses are 56% higher, transportation 27% higher, and the utility prices are 10% lower than the national average. The median home price is around $540,000 with the average median household income at $58,247 (in 2019 dollars). If you're moving to Chicago from out of state, it's good to know that Illinois has a flat income tax that features a 4.95% rate. In addition, sales and property taxes in Illinois are among the highest in the nation.
Those coming from the South should consider Chicago's weather before moving
Are you among those living in Houston and thinking about moving to Chicago for a job opportunity? Before hiring interstate movers Houston, consider the difference in weather. While Houston's known for having high heat and even higher humidity, Chicago lives up to its nickname "Wind City" and has notoriously brutal winters. Next to that, its weather is quite unpredictable. Chicago locals are used to seeing a snowstorm immediately followed by a sunny, warm day in April.
There is always something to do in the Wind City
Having in mind the size of its population, it's clear that Chicago is the place to be in the States, and the world. With so many different people and cultures, one city really has to have a lot to offer to entertain all of them. And Chicago does it very well. In fact, one of the best reasons to move to Chicago is the entertainment it offers. To get the idea here's just a small part of many things you can get in Chicago.
Enjoy masterpieces at the Art Institute of Chicago
Find true serenity at the Garfield Park Conservatory
Dance to late-night jazz at the Green Mill
Explore the history of the world at the Field Museum
Many great parks, critically-acclaimed theater, amazing cuisine, Lake Michigan's bitches, and much, much more.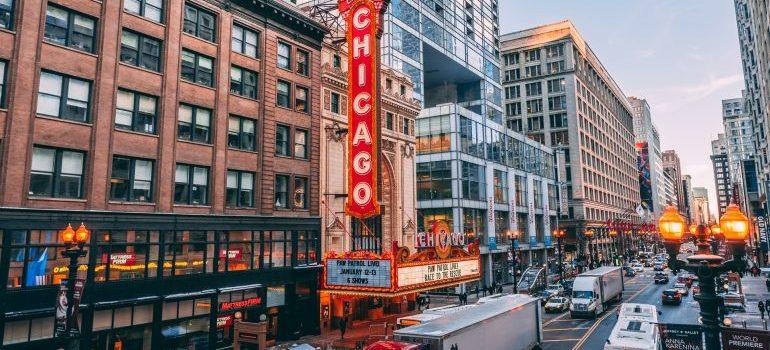 Chicago is not second rate
We were serious when we said that Chicago is a place to be – it's a leading city in so many ways. This city is the birthplace of gospel music, skyscrapers, and improv comedy. It ranks as one of the best restaurant destinations, best sports cities, and places to bike. These are all the things you should consider before moving to Chicago. It is one of those places that gives a feeling you're in the center of the world.