Moving to a new city can be both exciting and overwhelming. With so many neighborhoods to choose from, it can be hard to know where to start your search. However, if you're looking for a charming and vibrant community in the heart of Houston, then Houston Heights might be the perfect place for you. With its tree-lined streets, historic homes, and bustling local businesses, Houston Heights has a unique character and charm that draws in residents from all walks of life. Given this fact, many people choose to move here with the help of long distance movers Houston Heights TX. From its thriving art scene to its diverse dining options, Houston Heights has something for everyone. And although living here seems ideal, you have to keep in mind that nothing is perfect. That's why today, we want to explore the pros and cons of living in Houston Heights.
The Ups and Downs of Life in Houston Heights: A Comprehensive Review
Houston Heights is a neighborhood in the northwest-central area of Houston, Texas. Established in the late 19th century, it is known for its historic buildings, wide streets with mature trees, and vibrant community. It boasts a diverse mix of residents, including families, young professionals, and retirees, with a reputation for being a friendly and welcoming community. However, as with any other area, there are a few pros and cons of living in Houston Heights. The neighborhood has a strong sense of community, with numerous local events and activities that bring neighbors together. It is also conveniently located near downtown Houston, providing easy access to employment opportunities, restaurants, and cultural attractions. Additionally, the area has a number of excellent schools and parks, making it an ideal place for families with children.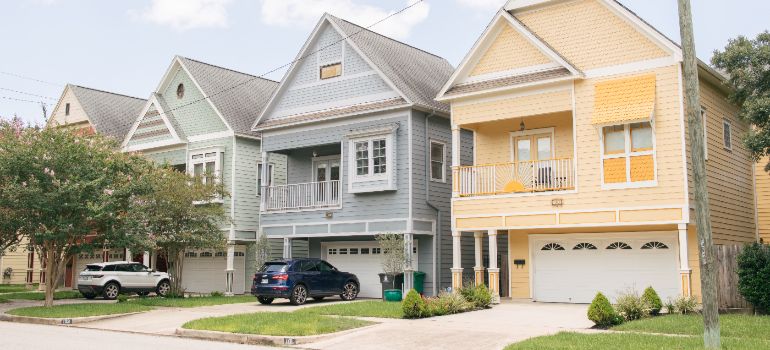 Despite these advantages, there are also some drawbacks to living in Houston Heights. One of the most significant is the cost of living, which can be higher than in other parts of Houston. Additionally, the neighborhood is located near major highways, which can lead to traffic congestion and noise. Lastly, the area is prone to flooding, which can be a concern for homeowners. Now, let's take a closer look at the pros and cons of living in Houston Heights. Our aim is to give you a better idea of whether this neighborhood is the right fit for you. Whether you're considering a move to Houston Heights or just curious about what it's like to live there, this post will provide you with valuable insights and information.
Discover Houston Heights: The Trendy Heart of the City
Houston Heights is a neighborhood in the heart of Houston that has a long and rich history. The area was established in the late 1800s as a streetcar suburb, and many of the original Victorian-style homes have been preserved to this day. The historic homes, combined with the area's artsy vibe, give Houston Heights a unique charm that sets it apart from other Houston neighborhoods. If you're a fan of great architecture, don't hesitate to relocate here with the help of long distance moving companies Houston TX. One of the things that make Houston Heights so special is its vibrant, walkable streets. The area is full of local businesses, including trendy restaurants and cafes.
Whether you're in the mood for a quick coffee or a fancy dinner, Houston Heights has plenty of options to choose from. Many of the restaurants and cafes have outdoor seating, making it a perfect spot for people-watching and soaking up the atmosphere. In addition to the food and drink options, Houston Heights also features unique boutiques and shops. From vintage clothing to handmade jewelry, you'll find a wide variety of one-of-a-kind items in the neighborhood's boutiques. The community is also home to several art galleries and studios, which add to the neighborhood's creative flair.
The cost of living in Houston Heights is a notable con
Houston Heights is one of the most sought-after neighborhoods in Houston. However, the beautiful homes, trendy restaurants, and charming shops come with a high pricetag. This makes Houston Heights one of the more expensive neighborhoods in the city. Housing costs are higher in Houston Heights compared to other parts of the city. The cost of living is high due to the neighborhood's popularity and the higher income levels of its residents. Houston out of state movers would be happy to help you relocate here. Keep in mind, however, that the median rent for a one-bedroom apartment in Houston Heights is around $1,800 per month. In other parts of the city, the price is closer to $1,200 a month. While the high costs of living in Houston Heights may deter some, many are willing to pay the price for the quality of life and community that the neighborhood offers.
Houston Heights: A haven for architectural enthusiasts
If you love unique architecture and historic homes, then living in Houston Heights is definitely a pro. The area is brimming with character and charm, thanks to its extensive collection of homes and buildings that date back to the early 20th century. These historic structures have been beautifully preserved, and they offer a glimpse into the city's rich history and cultural heritage. From Craftsman-style bungalows to Victorian-era mansions, there is no shortage of architectural styles to admire in Houston Heights. Many of these homes are lovingly restored and maintained, adding modern conveniences while still maintaining their original charm. Whether you're a history buff or simply appreciate beautiful architecture, Houston Heights is a must-see destination.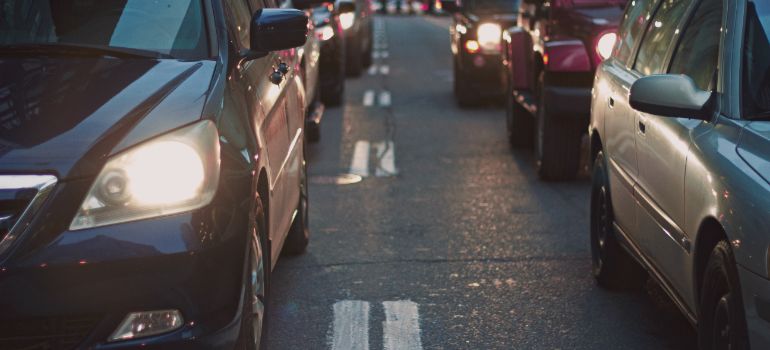 Pros and cons of living in Houston Heights: Highly popular, but highly congested
As we've already established, Houston Heights is THE place to be. However, the area's popularity can also lead to some challenges, particularly when it comes to parking and traffic congestion. During peak hours, finding a suitable parking spot or navigating the streets becomes a real struggle. The narrow and winding streets of Houston Heights only add to the difficulty of the situation. This has proven to be frustrating for residents and visitors alike. Furthermore, the increased traffic can lead to longer commute times and make it difficult for emergency vehicles to navigate the area in case of an emergency. But, don't let this dismay you from moving here, as long distance movers Texas know how to navigate heavy traffic. Despite these challenges, Houston Heights remains a highly sought-after neighborhood due to its unique character and lively atmosphere.
The area offers a premier educational experience
Besides being a place of architectural wonder, the area is also a haven for knowledge and education. It is home to a few schools, such as:
Harvard Elementary
Hamilton Middle School
Helms Elementary School.
Harvard Elementary, for example, is one of the most celebrated schools in the area. It is one of the best neighborhoods in Houston in terms of academic excellence and outstanding educational programs. The school's faculty and staff work tirelessly to provide students with a well-rounded education, encouraging them to reach their full potential in life. Harvard Elementary is just one of the many reasons why Houston Heights is considered to be such a desirable place to live for families who value education and academic achievement. If you're a parent weighing out the pros and cons of living in Houston Heights, you should definitely chalk up excellent education as a huge plus.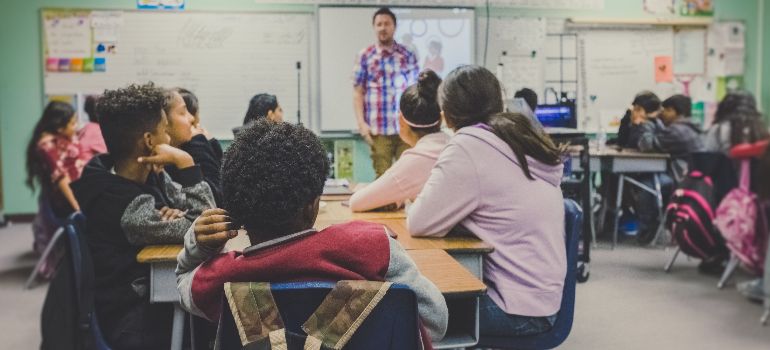 High property taxes are yet another drawback of living in Houston Heights
Living in Houston Heights can be expensive due to the higher property taxes that homeowners have to pay. These taxes can add a significant expense to the overall cost of owning a home in the area. This is because property taxes are typically calculated based on the value of the property. They tend to be higher in more desirable neighborhoods, and Houston Heights is one of them. If you're planning on buying a home here, this is something to be aware of. On average, the property tax rate in Houston is 0.533640 per $100 of assessed value. So keep this in mind when calculating your house budget.
From jogging trails to picnic spots, the parks of Houston Heights have it all
When considering the pros and cons of living in Houston Heights, think of the beautiful nature the area offers. Visitors and locals alike can enjoy the beautiful scenery and stay active with the various outdoor activities available. One of the most popular green spaces in the area is the White Oak Bayou Greenway. Here, you have numerous opportunities for biking, hiking, and jogging. The Greenway spans several miles and features a paved trail that winds through the heart of the city. With its lush greenery and picturesque views, Houston Heights is a haven for nature lovers and outdoor enthusiasts looking to escape the hustle and bustle of the city. Other notable parks include Donovan Park, Love Park, and Milroy Park. These green spaces are not only great for recreation but also serve as gathering places for community events and celebrations.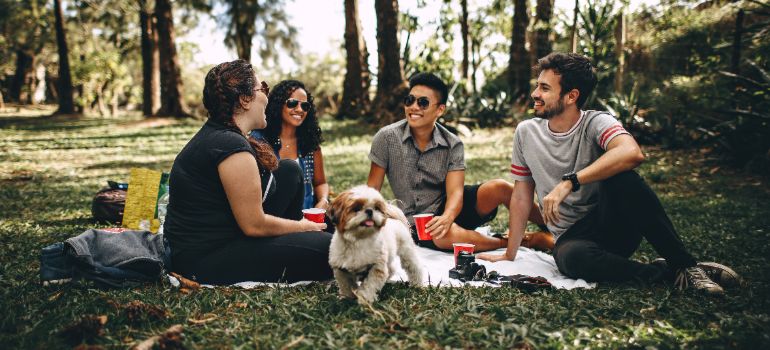 The neighborhood is affected by noise pollution but works hard toward reducing it
Even though the trendy restaurants, bars, and shops boost the economy of the area, some may see them as a drawback to living here. Because of its popularity and proximity to major roads, the neighborhood can be quite noisy at times. This is especially true at night when all the bars and clubs come to life. The busy traffic and entertainment venues that operate late into the night are the most common causes of noise pollution. While some residents might find the buzz of the neighborhood charming, others may find it disruptive to their sleep or general peace and quiet. In recent years, there have been efforts to mitigate the noise pollution in Houston Heights. For example, some bars and restaurants have installed soundproofing materials or moved their outdoor seating areas away from residential streets.
Living in Houston Heights brings with it a plethora of amazing community events
After looking at the noisy cons, let's look at the pros which bring the community together! Community and cultural events are an essential part of any city's social fabric, bringing together people from diverse backgrounds to celebrate the traditions, art, and culture of their community. Throughout the year, various events take place that showcase the unique heritage and creativity of a region. One such event in Houston, Texas, is the White Linen Night Art Festival, where people come together dressed in white to celebrate the local arts scene. This event features live music, art exhibits, and food from local vendors. Another popular community event is the Heights Fun Run. People of all ages gather for a 5K run and walk that winds through the tree-lined streets of the neighborhood.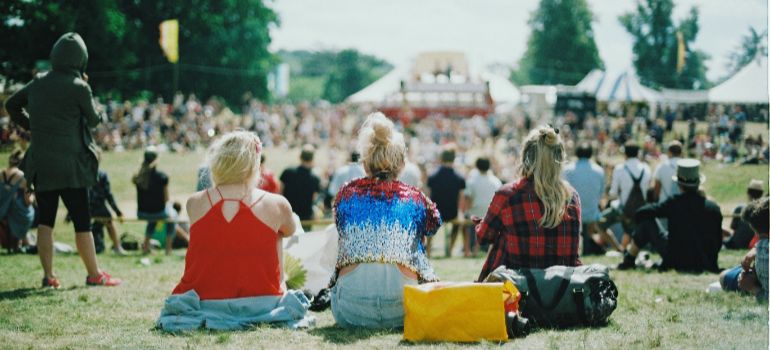 The run culminates in a festival featuring live music, food, and fun activities for families. These events serve as a reminder of the vibrant and diverse community that exists in Houston and provide an opportunity for people to come together, have fun, and celebrate their shared culture. In addition to these events, Houston hosts a variety of other community and cultural events throughout the year, such as the Houston Livestock Show and Rodeo, the Art Car Parade, and the Houston International Festival. These events attract people from all over the region and help to promote the city's unique cultural identity.
To move or not to move: Reflecting on the pros and cons of life in Houston Heights
All things considered, Houston Heights offers a unique and diverse community that is filled with history, culture, and charm. The neighborhood's proximity to downtown Houston, excellent schools, and ample green space are just some of the many reasons why people love to call this place home. However, Houston Heights does have its downsides, such as traffic congestion, high living costs, and limited housing availability. Ultimately, whether this is the right neighborhood for you depends on your personal preferences and priorities. By carefully considering the pros and cons of living in Houston Heights, you can make an informed decision about moving long distance and settling here. And once you do, State To State movers will be more than happy to help you move. If you want a neighborhood with character, history, and plenty of amenities, Houston Heights may just be the perfect place for you.