Want to move to Houston, TX? Don't know what neighborhood to choose? Yes, Houston offers a diverse list of neighborhoods, and it is hard to single out the best one. However, you don't have to do it alone. State To State Move is here to help you narrow down the choice. Check out some of the best Houston neighborhoods to move to and choose the one that suits you best. Enjoy this virtual ride and enjoy Houston's most diverse neighborhoods.
Meet Houston, Texas
Located near Galveston Bay and the Gulf of Mexico, Houston, Texas, is a large metropolitan area that has become a famous cultural center. It is considered one of the best places to live in Texas. Here are some of the main traits of living in Houston, Texas:
Population: 6,979,613
Median Age – 34.5 years old
Average Annual Salary – $56,000
Median Home Price is around $369,550
Median Monthly Rent is very affordable, around $1,137
The unemployment rate is about 9%
If these factors are reason enough for you to move to Houston, check some of the best long distance movers Pearland TX offers and have a seamless moving experience.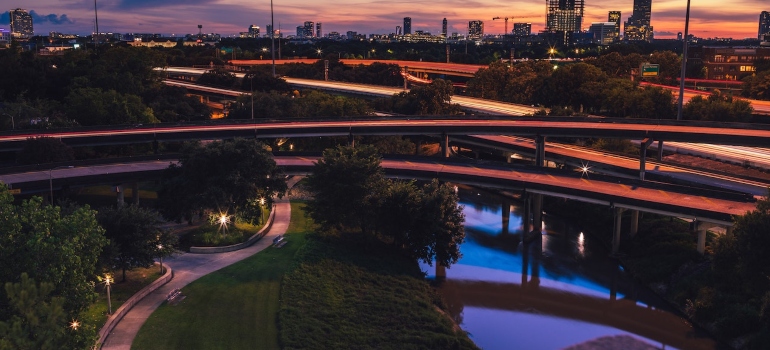 Why do people move to Houston?
Endless job opportunities, affordable cost of living, no income tax, and pleasant weather all year round are the most important reasons why people decide to settle down in Houston. The city is most suitable for families and young professionals. However, retirees tend to move here due to the environment and community vibe. Houston offers an exceptional quality of life, starting from job opportunities. Here you can develop careers in the tech, energy, and medicine industries. Besides, Houston is home to numerous entertainment places, top-notch educational systems, and a reasonable cost of living. So, if Houston is your choice, State to State Move will help you move here from any destination you want. For example, you can choose some of the best long distance movers Pasadena to handle your move efficiently.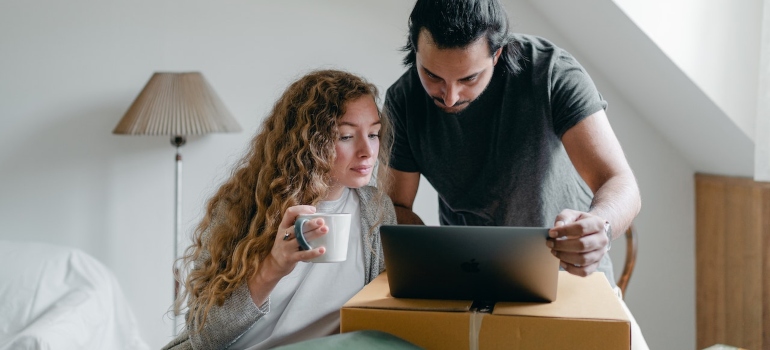 Factors to consider before choosing a neighborhood to live in
Buying a house or an apartment is perhaps a once-in-a-lifetime event, so you should choose the neighborhood smartly since it will define and impact your life in many ways. But how to know whether a neighborhood is suitable or not? Check the factors that we have singled out for you:
Neighborhood safety: this is essential if you have children.
Walkability to grocery, pharmacy, department stores, schools, and hospitals: Choose a neighborhood that has proximity to the most critical places.
Job opportunities: Finding a neighborhood close to your office would be best.
School system: Find a neighborhood that offers excellent learning opportunities to your children.
Nearby places for entertainment: Choose a neighborhood that offers different outdoor and recreational activities. Don't forget to search for a pet-friendly area with parks and walking trails.
Natural environment: Choose a neighborhood that has a lot of green spaces.
Best Houston neighborhoods to move to
It was indeed challenging to select the best Houston neighborhoods to move to, but we've managed to single out the most popular ones:
The Heights
Memorial Park
Houston Museum District
University Place
East End (EaDo)
Midtown
Great Uptown
River Oaks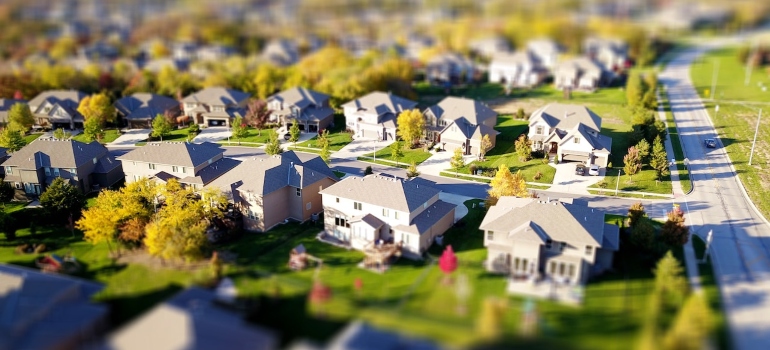 The Heights
Fully named Houston Heights, the neighborhood is located in the Northwest city area. It is known as one of the oldest neighborhoods in the city due to its historical architectural property styles. Most of the houses are built in the Victorian style. It is one of the most residential Houston neighborhoods, but I don't think it's tranquil since many shops and restaurants are located here. Here you can find a variety of single-family homes. Although most homes in Houston Heights are relatively affordable, there are also expensive properties whose prices may go up to $1,000,000. If this neighborhood seems like a good fit for you and your family, contact interstate movers Columbus TX and start planing your relocation here.
The best neighborhood for nature lovers: Memorial Park
This neighborhood is known for the mixture of urban and suburban, which means you'll experience different opportunities. It is home to some highly-rated schools, which makes it popular with families with children. Besides, it has proximity to Downtown Houston (about 20 minute ride). The neighborhood is rich in nature, such as green spaces, forests, and parks. However, it has all the amenities of a suburban neighborhood. You can find a shopping center, restaurants, cafes, and many other entertainment places here.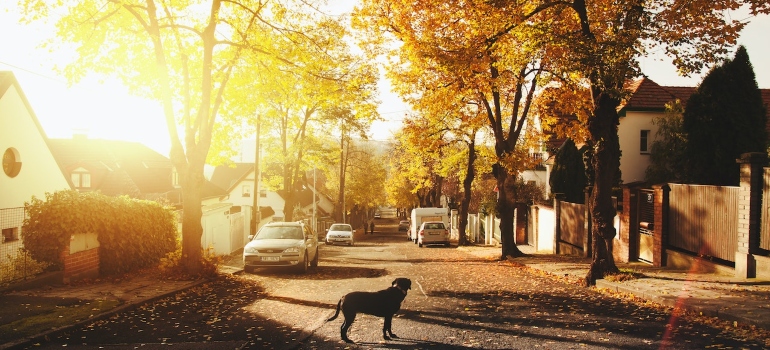 Houston Museum District is one of the best Houston neighborhoods to move to if you are an art lover
Houston Museum District is a perfect match if you have a job related to art or are simply an art lover. There are numerous museums (19 to be precise) you can visit. That's how it got its name. However, when it comes to the residential area, the neighborhood is pretty modern, which makes it an excellent fit for those who want to live in a neighborhood that has a mixture of history and fashion. Here, you can a mix of find single-family homes and apartment complexes. Besides, the neighborhood is known to be safe. Following are the three most popular museums to visit in the neighborhood.
Children's Museum Houston: The greatest thing is that the museum is interactive, where the children can learn and develop different skills.
The Health Museum Houston: Excellent for those interested in medicine. Here you can enjoy real body exhibits.
Interested in butterflies? Then, Cockrell Butterfly Center is the perfect match. It is located in the Houston Museum of Natural Sciences, where you can see different types of these beautiful insects.
Once you decide that this is the perfect place for you, get in touch with the long distance movers in Dallas and start packing your items.
University Place
University Place is a neighborhood bounded by Kirby Drive, Main Street, and North Braeswood. It is located between the Museum District, Hermann Park, the Texas Medical Center, and West University. Due to its location, University Place is one of Houston's most popular destinations. It also has proximity to Downtown (about a 20-minute ride). The home prices range from $173,000 and can reach very high prices. However, if you want to rent a home, you can expect to pay from $825 to $12,000. Here you can enjoy great recreational activities, such as visiting swimming pools at the West University Place Recreation Center and Colonial Park, having a picnic at Friends Park, or visiting the museums and restaurants.
If you are a sports fan move, move to EaDo
East End, or EaDo, is one of the best places for athletes and sports fans. Here you can enjoy soccer, baseball, and other sports games. Each sports spot is walkable, requiring less than 15 minutes to walk. It has an excellent transportation system since it is connected to other Houston areas thanks to rail lines, trails, and bus lines. Once an industrial area, EaDo has become one of the city's fastest-growing areas, rich in art and history and full of job opportunities. Besides, the neighborhood has become a hot spot for Airbnb rentals, which can turn into a lucrative business. So, if the neighborhood is suitable for you, move here with some of the best movers Texas has to offer, such as long distance movers Jacinto City TX, for example.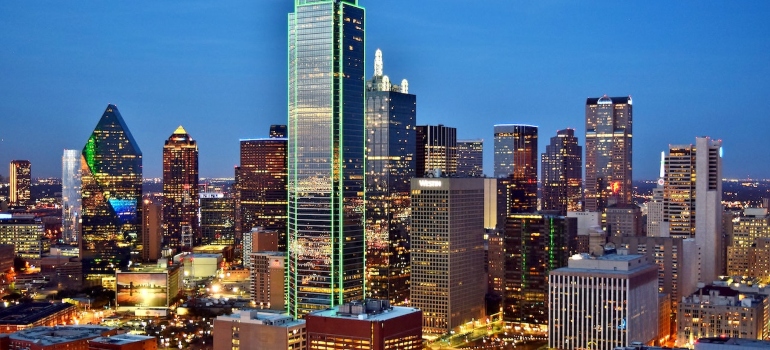 Midtown is considered one of the best Houston neighborhoods to move to
Want to live near Downtown? Check out Midtown. The neighborhood is most appealing to young professionals seeking career development. It is a great neighborhood for local businesses with an excellent vibe. Not to mention the proximity to other Houston areas. However, it still remains affordable despite the massive influx of people.
Regarding housing options, once you relocate here with the help of the long distance movers Sugar Land TX you can find everything from single-family homes, lofts, and apartments to high-rise and luxurious buildings. One thing is sure – if you want to live in a lively neighborhood, search no further than Midtown. Besides, if you are a nightlife person, then Midtown is a perfect match. Following are some of the most visited places in the neighborhood:
Midtown Arts and Theatre Center Houston annually offers theatre, music, and dance shows.
Station Museum of Contemporary Art, where you can enjoy the artwork of the locals
Oporto Fooding and Wine House, where you can try Portuguese tapas
Great Uptown – the best Houston neighborhood for those searching for education opportunities
The neighborhood is so welcoming that you'll have the impression that you have lived here your whole life. It is considered a melting pot of the city. Great Uptown is excellent for families striving for the best education for their children since the neighborhood has a robust education system. However, young professionals also tend to move to this neighborhood, thanks to its charming vibe and excellent commuting time to other Houston areas. The neighborhood is so diverse that you'll meet different people and personalities, making your life richer.
River Oaks – expensive but worth the money
This neighborhood is considered one of the most affluent Houston neighborhoods and beyond. However, it is definitely worth the money since it has all the amenities a neighborhood needs. Here you can find the best and newest real estate options, from luxurious apartments, mansions, and other apartment complexes. However, rich historic architecture is preserved. There's a mixture of English Tudor and Spanish Colonial Revival architecture styles mixed in with modern buildings, making a sophisticated appeal. Wonder what to expect when living in Rover Oaks? Well, expect only the best:
First-class lifestyle
Endless shopping opportunities
Exquisite cuisine
Luxurious environment
Living in River Oaks is definitely worth the money.
Choosing the best Houston neighborhood to move to is not an easy task
As you can see, choosing the best neighborhoods in Houston is a challenging but exciting venture. It is not an easy task to narrow down the choice. However, whichever neighborhood you choose, you won't regret your decision since each area has something to offer. The question is, what are the traits you are looking for in a neighborhood? Determine the factors mentioned above and dive into the exciting neighborhood quest. However, don't hurry up with your decision. Take your time to think and visit each neighborhood. Besides, find a real estate agency that will provide you with housing listings according to your preferences. After you make a final decision, the only thing left is to search for a moving company that will perform your relocation. Now, let's check how to prepare for the move.
How to prepare for the move to a Houston neighborhood
Here's how to prepare for the move:
Determine your moving budget
Make an inventory list
Request moving quotes
Choose the right and reliable moving company
Make a moving plan and time
Obtain the necessary paperwork
Purchase the packing supplies
Start packing room by room
Pack your essentials first
Declutter as you pack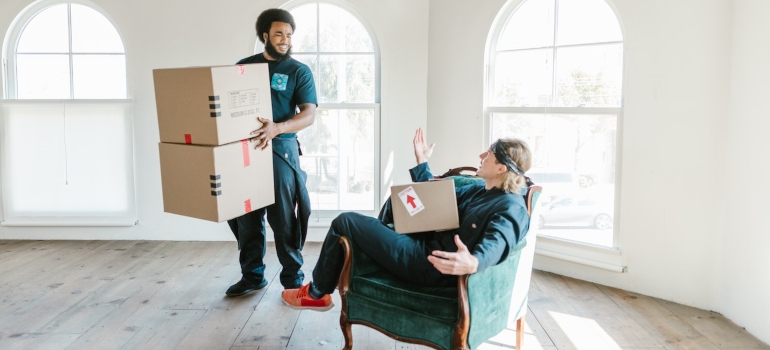 Contact us today and schedule a perfect relocation
Now that you know which are the best Houston neighborhoods to move to, it's time to start preparing for the move. Following the moving checklist above, you'll ensure an organized move. However, one thing is the most important. You should choose the right moving company. And whom better to hire than State to State Move and our professional, skilled, and devoted movers? Your belongings will be in the safest hands possible since nothing can miss our sharp eyes. So, contact us as soon as you choose the neighborhood, and we'll get back to you with a moving plan tailored to your needs. Besides, you can expect affordable moving prices. Get your free estimate. Let us be a part of this new chapter in your life. Let us handle your move from start to finish and make it a flawless and enjoyable experience. Have a safe relocation.