Wintertime is a season when most people find it unpleasant to be outdoors. Simply shoveling their driveway is challenging, let alone moving to another state that is warmer or less cold. Sooner or later, these people decide that they can't take it anymore. When this happens, they tend to move to another state. However, when it comes to moving, it is not as easy to do as it seems. Moving out of state during winter requires serious organization because weather conditions can lead to many unforeseen circumstances. You will have to pay attention to things that you wouldn't otherwise do. Those things would not be a problem for you in the warmer periods of the year. If you find yourself moving from state to state, below you will find some tips to move out of state during winter easily and without any stress.
Moving out of state during winter has some good sides
Moving from country to country is generally demanding. In the warmer summer months, when everyone is moving, the organization of a long move can be challenging. The winter months are great because, in addition to being cheaper, it's easier to get a moving appointment with the moving company you like. An added advantage is that you can actually make it easier on yourself with some powerful tips to move out of state during winter. This means that it doesn't have to be hard. Divide the tasks and focus on the most important parts. This will help you to solve every problem you face. The key step is to hire a mover. If you are moving to a warmer state, like Florida, for example, their long distance movers in Florida can help you with anything.
It will be easy to arrange this move with them but before they come you have to:
Make the necessary preparations before the mover's arrival,
Be ready for a change of plans.
Tip 1: Prepare for the arrival of your movers
During winter time, you need to be ready for the move, not only by packing your items but by preparing the outside of your home too. This is important because it will allow the moving crew to get into the home and safely move your furniture out. Surely, you don't want the mover to slip while carrying your belongings and damage your furniture while hurting himself. The preparation must be carefully planned and done because, unfortunately, this is not so easy to do during the winter months.
The choice of packaging material is crucial
Winter conditions will require a more careful selection of packaging materials, especially when it comes to more sensitive pieces of furniture, instruments, and works of art. You have to treat even ordinary glasses, as well as other glass objects, very carefully. Cardboard boxes are not the best option for a winter move. They get wet quickly and are porous, so no matter how much you protect the items inside them with bubble wrap, there is a chance that they will be broken.
Double laying the bottom and reinforcing it with duct tape can be an option, but it is best to use plastic containers if you have the money for them. Good organization and precise labeling are equally important. If you don't have time and nerves for all this, even packing before moving from Texas to DC can be a piece of cake if you rely on professionals. They can help you through the whole packing process and even do it for you!
Pack smartly
Keep the things you need close at hand. Along with your documentation, money, food, and drinks, keep the ice scraper and shovel close to you. Everything you think you might need during the trip, pack last. In case something happens, you'll want to have your most important items at hand for ease of access. Just imagine getting stuck in the snow and rummaging in minus weather through all your belongings just to find the snow shovel at the bottom of the trunk. This is definitely a scenario to avoid, especially during a stressful time like moving.
Clear the driveway 
A snow shovel and plenty of salt are essential tools if you plan to move out of state during winter. Safety is the most important, so it is important to keep the entryway to the house or building clean and non-slippery. First of all, you must not risk anyone's safety. Injuries from falling on snow and ice can be serious. On the other hand, you don't want anyone to drop one of your valuables and damage them.
So, take care of your driveway before calling in the movers. Shovel the snow away; if your driveway is slippery, pour salt on it. If you can't get your hands on any salt, try defrosting your driveway with hot water, soap, and an alcohol solution. Simply take a gallon of hot water, a quarter cup of rubbing alcohol, and about six drops of dish soap, and combine them in a bucket. Mix everything well, then pour the mixture onto the driveway. This can be a pretty effective fix if you don't have any time or salt.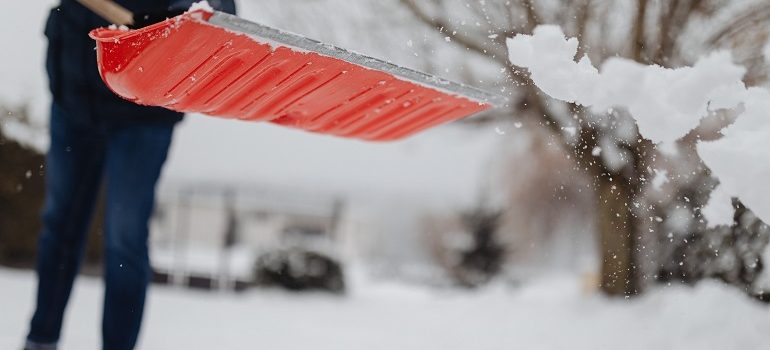 Tips 2: Be ready for your move to be rescheduled
Let's say you agree to move on Tuesday morning, but Monday night brings a large snowstorm that won't stop. The chances of you moving will suddenly drop to a minimum. This happens because the truck driver might have a hard time trying to make it through the snow. Or maybe the way to your home is a two-lane road, and by getting stuck in the way, the truck will create a hazard. It could also be something like the snow piling up, so the road gets narrowed by it. Driving in this weather is a big risk. The road is unsafe, so the safety of people and your belongings cannot be guaranteed.
Besides this, countless factors can make your moving company reschedule your move. The problem arises when you have to leave the old apartment and reach the new one that day, regardless of the factors that are not in favor of it. So, you should always have these unpredictable circumstances in mind when planning your winter move. Being one step ahead of the weather will really help you out in this endeavor.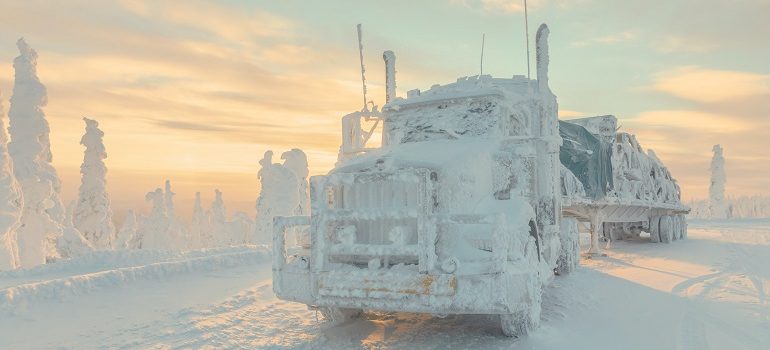 Keep in mind that the delay might also happen once the truck is loaded and on its way to your destination, but no worries, if you are dealing with a fully licensed and insured moving company, you should have total peace of mind with your move. When moving from Texas to New York, for example, you can stay in touch with movers during transport. They will keep you posted about what's happening and when they can pick up your belongings in a safe manner. If you have nowhere to leave your belongings until then, you should rent a warehouse in a timely manner.
Ask about the best storage units when moving out of state during winter
Renting a storage unit is the best thing you can do when moving from state to state. Storage can make your move easier in every way. First of all, you will not have to move all your things at once. You can transport one part of the necessary things and leave the other part for later in a safe place. In unfavorable weather conditions such as those in winter, you have to have a safe place where you can store your things.
Additionally, in situations with moving delays, storage is an essential thing. The only thing you have to take into account is to rent storage that is climate controlled, especially if you plan to store sensitive things there. This is especially important if you are located in a very cold climate. Even though a storage unit might seem safe to you, it might not be weather-proof. Your items inside might freeze or suffer temperature damage if you don't rent a heated storage.
Find some time for yourself
Even with these tips to move out of state during winter, planning it out can be confusing, and it can exhaust you. If this challenge still seems confusing to you, you might want to see 25 actionable tips for moving out of state for the first time. In the end, when you are trying to manage everything, you might forget to enjoy yourself. It will often happen due to a lack of time and energy. A move, especially a long one, is still the marking of a new beginning. Make sure you leave time for yourself. You have to rest so that you can truly experience this snowy adventure to the fullest.
With our tips to move out of state during winter you will have a smooth relocation
Following these powerful tips to move out of state during winter will prove to be a great recipe for a successful organization. What is most important is that you are prepared for unexpected situations. When you have a pre-planned solution for every problem, everything goes much easier. It's less stressful and much faster. Remember to enjoy yourself and try to make the best of your time. With some preparation, a trusty moving team at your side, and a lot of patience, your winter move will surely be successful!