Welcome to Dallas, the vibrant Texan metropolis known for its rich culture, arts, and world-class attractions. For newcomers, making friends in Dallas can be a challenge, especially when moving to a new city alone with the help of State to State movers. Adjusting to a new environment, finding your tribe, and building meaningful connections might seem like a daunting task. However, don't let these obstacles hold you back! In this guide, we'll explore a variety of places and activities where you can meet new people and form lasting friendships. From bustling coffee shops to lively social clubs, Dallas offers countless opportunities to mingle with like-minded individuals and make the Lone Star State feel like home.
Making Friends in Dallas: Diverse Opportunities to Connect
After settling in with the help of long distance movers Dallas, it's time to explore the city and discover various ways to make friends. Dallas offers a plethora of options for newcomers looking to connect with others:
Join a social club or group
Volunteer
Join a gym or fitness group
Attend networking events
Use social media
Visit a dog park
Attend a meetup event
Participate in community service
Discover Dallas Clubs and Groups: A Pathway to Like-minded Friendships
Joining a club or group in Dallas is a fantastic way to expand your social circle and make lasting friendships. By connecting with others who share your interests, you'll instantly have common ground for building relationships. Dallas is a thriving city with countless clubs and groups catering to various hobbies and passions, so you're bound to find something that aligns with your interests.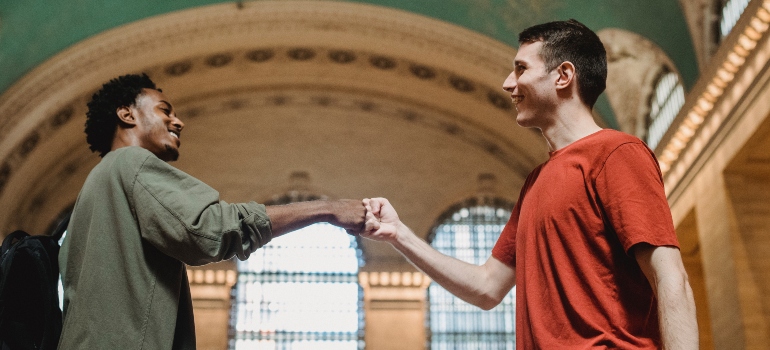 For example, if you're an outdoor enthusiast, consider joining a hiking or cycling club to explore the beautiful trails and parks around the city. If you're passionate about the arts, look for local theater groups or painting workshops where you can nurture your creativity while making friends. Book clubs, cooking classes, and dance lessons are also popular options for meeting new people in Dallas.
Moreover, if you're one of the many people military movers are relocating to Dallas, you may find camaraderie and support in veterans' organizations or clubs tailored to military personnel and their families. These groups offer not only friendship but also resources and assistance for adjusting to civilian life. By taking the initiative to join a club or group in Dallas, you'll not only enrich your life with new experiences but also forge meaningful connections with like-minded individuals who share your passions and interests.
Volunteering in Dallas: Building Friendships While Giving Back
Volunteering in Dallas is not only a rewarding way to give back to the community, but it also provides a unique opportunity to meet people and form connections. By volunteering for a cause you're passionate about, you'll naturally encounter like-minded individuals who share your values and interests. These shared experiences can pave the way for genuine friendships built on common ground.
As a newcomer to Dallas, you might have recently utilized packing services to facilitate your move. This experience may inspire you to volunteer at a local organization helping families in need, such as food banks, homeless shelters, or clothing drives. There are also various non-profit organizations focusing on environmental conservation, education, and community development that welcome volunteers with open arms. Another option is participating in one-time events like charity runs, neighborhood clean-ups, or fundraising galas. These events often bring together a diverse group of people from different backgrounds, offering you the chance to expand your social network while contributing to a meaningful cause.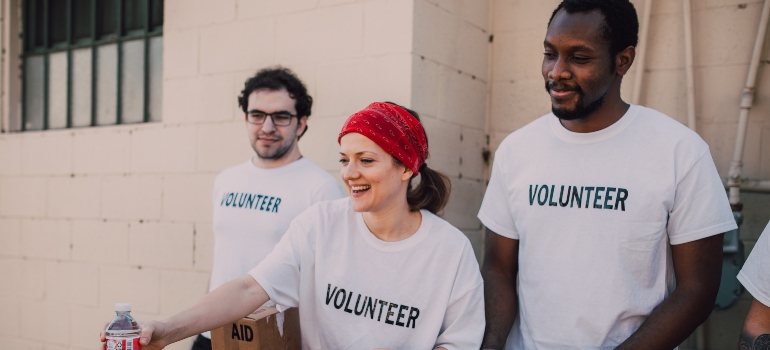 To find volunteer opportunities in Dallas, explore websites like VolunteerMatch or Idealist, which connect individuals with local non-profit organizations. You can also reach out to community centers, churches, or schools to inquire about ongoing projects or initiatives. By choosing to volunteer in Dallas, you'll not only make a positive impact on the community but also create lasting friendships with those who share your passion for helping others.
Unleash Your Potential: Classes and Workshops for Social Connections in Dallas
Taking classes in Dallas is an excellent way to make friends while developing new skills and hobbies. By signing up for a class or workshop, you'll surround yourself with individuals who share your interests and passions, creating a natural environment for forming connections. Whether it's a language class, a painting workshop, or a cooking course, engaging in these activities will not only enrich your life but also help you build a network of like-minded people.
Dallas is a thriving city with a diverse array of classes and workshops available to cater to various interests. For instance, you might consider joining a dance class to learn salsa, tango, or hip-hop, all while making friends in a fun and energetic atmosphere. If you're more inclined towards intellectual pursuits, enroll in a writing workshop, a book club, or a local history course to connect with others who share your curiosity. As you settle into the city, finding affordable housing in Dallas will further enable you to explore and enjoy these educational and social opportunities.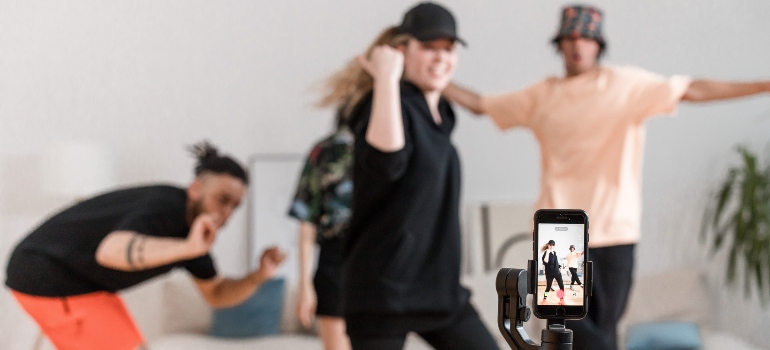 Many community centers, colleges, and cultural institutions in Dallas offer classes and workshops. You can also explore online platforms like CourseHorse or local event listings to find options that suit your interests. As you immerse yourself in these shared learning experiences, you'll not only develop new skills but also create a sense of camaraderie with your fellow students. This shared journey of growth and discovery can be the foundation of lasting friendships in your new city.
Get Fit and Make Friends: Joining Gyms and Fitness Groups in Dallas
Joining a gym or fitness group in Dallas is a fantastic way to stay in shape while expanding your social circle. Fitness classes and gym memberships bring together individuals with a common goal: leading a healthy lifestyle. This shared interest naturally fosters connections and friendships among participants.
In Dallas, you'll find a wide array of gyms and fitness studios offering various classes and workout styles. From traditional gyms with weightlifting and cardio equipment to specialized studios for yoga, Pilates, or CrossFit, there's something for everyone. Group classes such as spinning, Zumba, or boot camps not only provide motivation and accountability but also create a sense of camaraderie among participants. To find the right gym or fitness group for you, consider your fitness goals and preferences. Visit local facilities, research online reviews, and ask for recommendations from friends or colleagues. Many gyms and studios offer trial memberships or guest passes, allowing you to test the waters before committing to a membership.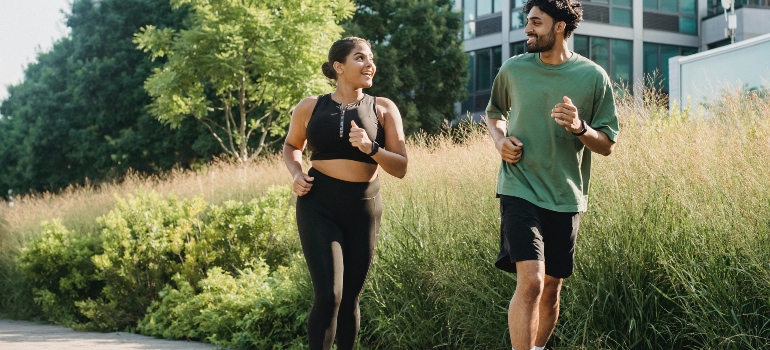 As you sweat it out alongside your fellow fitness enthusiasts, you'll find that the shared challenges and triumphs of working towards a healthier lifestyle can lead to strong bonds and lasting friendships. By investing in your physical well-being, you'll also be investing in your social well-being, making your experience in Dallas all the more fulfilling.
Dallas Networking Events: Forge Professional Connections and Friendships
Attending networking events in Dallas can be an invaluable way to build professional relationships, expand your industry knowledge, and make friends with people who share your career interests. These events create an environment where professionals from various industries can come together, exchange ideas, and form lasting connections, both on a personal and professional level.
Dallas offers a range of networking events, such as industry conferences, seminars, workshops, and mixers, tailored to various sectors and professions. Some popular options include the Dallas Startup Week, an annual event celebrating entrepreneurship and innovation, and the Dallas Regional Chamber events, which cater to business professionals across various industries.
You can also explore local meetups and organizations that focus on specific industries, such as technology, marketing, or finance. Websites like Meetup.com, Eventbrite, and LinkedIn can help you discover upcoming events relevant to your field. Additionally, consider joining professional associations and clubs in your industry, as they often host networking events for their members.
As you attend these networking events in Dallas, remember to be open, approachable, and genuine in your interactions. By engaging in meaningful conversations and demonstrating a genuine interest in others, you'll not only create valuable professional connections but also have the opportunity to make friends with individuals who share your career goals and aspirations.
Harness the Power of Social Media: Making Friends in Dallas Online
Using social media platforms can be a powerful tool for making friends in Dallas, as they offer countless opportunities to connect with people who share your interests and hobbies. By joining local Facebook groups or following Dallas-based Instagram accounts, you can stay informed about events and activities happening around the city while also engaging with fellow residents.
For instance, you might join Facebook groups related to your hobbies, such as photography, gardening, or cooking. These groups often share information about workshops, meetups, and local resources. Similarly, you can follow Instagram accounts that showcase events, culture, and lifestyle in Dallas, such as @visit_dallas or @dallasthings. These accounts will keep you up-to-date on the latest happenings and provide inspiration for exploring your new city. Another great way to connect with people is by participating in online forums or discussion groups focused on Dallas-related topics. Websites like Reddit and Nextdoor provide platforms for community members to discuss local news, ask for recommendations, and share personal experiences.
Remember to approach online interactions with the same level of openness and respect that you would in person. By engaging in conversations, offering advice, or simply sharing your thoughts, you can gradually build connections with others who share your interests. For example, you might seek advice on packing electronics for an interstate move to Dallas, which can lead to helpful tips and new connections. As you immerse yourself in these online communities, you'll find that social media can be a powerful ally in your quest to make friends in Dallas.
Unleash Friendships at Dallas Dog Parks: A Pawsome Way to Connect
Visiting a dog park in Dallas is a fantastic way to meet other dog owners and their furry friends while enjoying the outdoors. These dedicated spaces for off-leash play create a friendly and relaxed atmosphere where pet owners can bond over their love for dogs and share tips on pet care and training.
Dallas boasts a variety of dog parks, each with its unique features and amenities. Some popular options include White Rock Lake Dog Park, which offers a scenic waterfront view and separate play areas for large and small dogs; Mutts Canine Cantina, a unique combination of a dog park and a restaurant, where you can enjoy a meal or a drink while your pup plays; and Klyde Warren Park, a popular urban green space that hosts a variety of pet-friendly events and activities.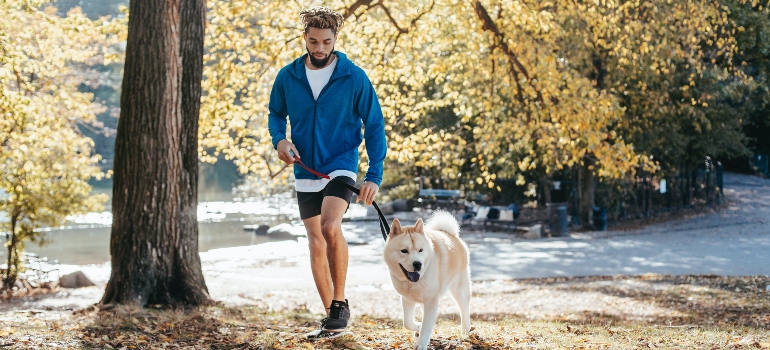 As you visit these dog parks with your canine companion, strike up conversations with fellow pet owners and exchange stories about your dogs' quirks and adventures. These shared experiences can help form genuine connections, turning casual encounters into lasting friendships.
Remember to follow dog park etiquette, such as cleaning up after your pet and supervising your dog's play, to ensure a positive experience for everyone. By embracing the vibrant dog-loving community in Dallas, you'll not only make friends for yourself but also provide your furry companion with the opportunity to socialize and play. As you settle into your new life, keep in mind the things to consider when moving long distance in Texas, such as finding the perfect dog park for you and your pup.
Connect and Thrive: Discover Meetup Events for Friendships in Dallas
Attending meetup events in Dallas is an excellent way to make friends and discover new interests. Meetup.com, a popular platform for organizing and finding local groups and events, offers a wide range of options catering to various hobbies, professions, and social interests. From professional networking groups to hiking clubs, you're sure to find something that piques your curiosity and aligns with your passions.
Meetup events create an environment where individuals with shared interests can come together, learn from one another, and forge lasting connections. For instance, if you're an outdoor enthusiast, you can join a hiking or cycling club to explore the natural beauty around Dallas while making friends who share your love for adventure. If you're a foodie, consider attending cooking classes, wine tastings, or restaurant meetups to connect with fellow Epicureans. To find the right meetup event for you, browse the Meetup.com website or download the app, create a profile, and search for groups based on your interests and location. Most meetups are open to newcomers, making it easy to attend and start making connections right away.
Participating in community service events is a great way to meet people who share your passion for giving back to the community
Participating in community service events in the city of Dallas is a rewarding way to meet people who share your passion for giving back to the community. These events bring together individuals with a common goal: making a positive impact on the lives of others while contributing to the well-being of the city. By engaging in community service, you'll not only make a difference in your new community but also form meaningful connections with fellow volunteers. These shared experiences can lay the foundation for lasting friendships, as you bond over your shared commitment to social responsibility.
Embrace the Dallas Friendship Adventure
Making friends in Dallas may seem challenging at first, but by embracing the numerous opportunities to connect with like-minded individuals, you'll quickly build a thriving social circle. Join clubs, attend community events, volunteer, take classes, explore fitness groups, network, utilize social media, visit dog parks, attend meetups, and engage in community service. Each of these avenues offers unique chances to form lasting friendships with people who share your interests and passions which is one of the main reasons why people are moving to Texas. As you settle into your new life in the Lone Star State, don't forget to explore our blog for more tips and insights about living in Texas. Your adventure awaits!