Relocating to a new home comes with a set of challenges. It is an exciting prospect but one that you need to prepare for accordingly. For relocation over long distances, you will want to have expert movers at your side, such as State to state movers, as well as a good plan. One of the more difficult aspects of the relocation is actually moving carpets across the country. They are quite tricky to prepare and relocate, after all, so you will need to have a few things in mind. That is why we have prepared this article for you, which will help you manage this process a lot more easily.
Moving carpets across the country in five easy steps
Here are the steps that you need to make before relocating your rugs and carpets:
Planning
Acquiring necessary supplies
Deep-cleaning
The packing process
Safety precautions
Do note, however, that you will have a lot of other things to prepare for. Therefore, make sure that you have enough time for everything that a long-distance relocation process requires. Hire your long distance movers Dallas early, transfer the necessary documents ahead of time, etc. But when it comes to the rugs and carpets themselves, follow these steps and you will have an easier time.
Planning
Every successful venture starts with a good plan. If this is your first time relocating across the country, you might need some assistance. You can either do the research on your own or have your long distance movers Long Island help you with the process. Ideally, you will combine both of those. Though each part of the plan is equally important, the focus of this article will be on preparing your carpets for relocation. You will need to set aside a part of your moving budget for this task, as it can get quite costly if you have a lot of rugs and carpets in your home. With that in mind, the first thing that you will need to do is:
Acquire necessary supplies
You are going to need packing supplies, as well as cleaning supplies for your carpets. Of course, you can always send your carpets to be cleaned by a professional instead. You can have your movers bring in all the necessary packing supplies, as well. However, if you want to save some money on the relocation, as you will have a lot of expenses, you may want to go a bit cheaper on the carpets. This means doing most of the work on your own. And for that, you are going to need plenty of rope, packing tape, wrapping, garbage bags, and similar packing supplies. Luckily, most of these will be useful in the packing process for all your other items as well.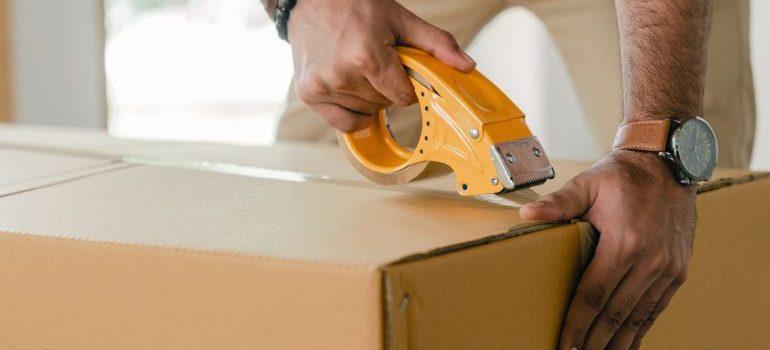 The cheapest way to obtain these supplies is to browse online marketplaces or find people that have recently moved to your area. You will be able to get some great deals that way. But, chances are that you are going to miss a few items after exhausting those options. You can always have your movers bring the rest in, or you can visit a specialty store. Just make sure that you have enough supplies for the whole packing process, not only the carpets.
Deep-clean before moving carpets across the country
Before you can pack your carpets, however, you need to ensure that they are thoroughly clean. Relocating a dirty carpet is a recipe for disaster, after all, and you want to avoid it at all costs. Besides, it is a lot easier to clean them before the relocation process than after. You have two options when it comes to cleaning your favorite surfaces. DIY route or cleaning service. Depending on your moving budget, you will either need cleaning supplies (which you should have obtained by now) and a bit of time, or a fatter wallet. The benefit of hiring professional cleaning services is that it frees up your time and energy for the rest of the moving process. But if you have time to spare, it is always best to clean them on your own. 
Furthermore, if you are planning on storing your carpets, you may look into whether the storage facility offers cleaning services. Storage services usually get bundled so you may get a good price on them. Either way, make sure that your carpets are clean and ready to go before you begin with:
The packing process
When it comes to this point, you will want to "do" one room at a time. Start with the rooms that see the least use and work your way up to the living room. As you may already know, the best way to relocate carpets is by rolling them, as opposed to folding them. While some carpets can indeed be folded, it is always better to roll them instead. It is not a complicated process but you need to make sure that you are rolling in line with fiber. Doing otherwise might cause damage to the carpet. Once you have them in a neat roll, secure them with rope and some packing tape. After that, wrap them in plastic wrap or with several garbage bags, before securing them further with more rope and packing tape.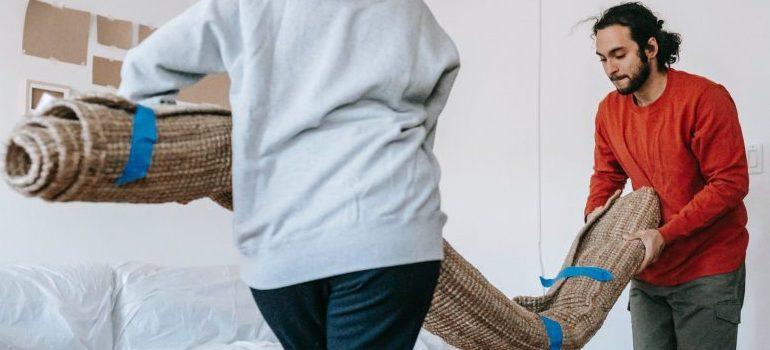 If you have several carpets of similar size, it may be a good idea to combine them in one roll. This can save a considerable space within the moving truck, which may further reduce the cost of your relocation.
Safety precautions for moving carpets across the country
Lastly, you will want to make sure that your carpets arrive in their original condition. If you are loading the moving truck on your own, avoid stacking your rugs next to any sharp objects or edges of the truck. Try to also secure them in place, so they can't move during transport. Of course, if you hire a moving company, moving carpets across the country becomes much easier. They will take all the necessary precautions and you will not need to worry about the safety of your precious belongings.