Are you looking for a way to have a stress-free long distance relocation? This is just the right place to find out more about the topic! State To State Move is a company with many years of experience in both local and long-distance moves, and we've decided to give you a few useful tips to help you achieve a stress-free long distance relocation. We know how stressful moving long-distance can be, whether you had all the time in the world to prepare, or you've just found out and have to move next month. It always seems like the obligations won't ever come to an end, but they will. And you want to meet that moment with happiness and enthusiasm about the future, not the dread of the situation you've found yourself in. To find out how you can have a stress-free long distance relocation, keep on reading!
Lists are the key to stress-free long distance relocation
Keeping lists is one of the most important, yet most simple tactics you can implement in your moving process. When you start researching the moving process and moving companies, you'll feel like you have too much on your place. That's when the lists come in! Have an electronic device of your choice or a small notebook where you'll keep track of all the processes that are going on. That includes finances, moving companies that you're researching, the numbers that you might need, the tasks that you still have to do. Etc.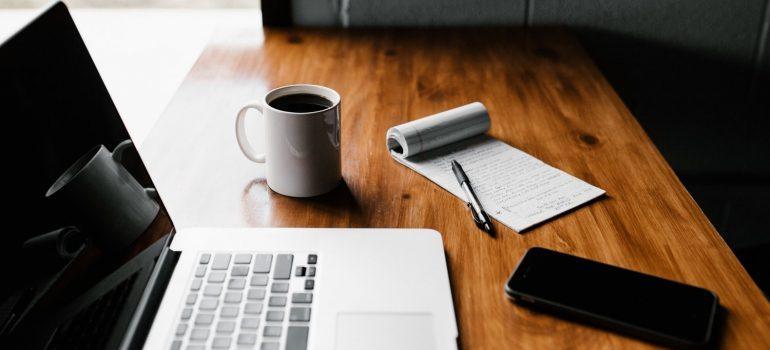 When it comes to moving, the list can go on and on, which is why it's important to also cross things from the lists over time by engaging in solutions as much as creating the opportunities. When you cross out something from a list you'll feel accomplished and your progress will become visual. You can also keep lists on your phone, where you'll be able to access them any time of day or night.
Early preparations for a long distance move
Long distance moves require a lot of logistics, which is one of the main reasons why you should start preparing as early as possible.
To have a stress-free long distance relocation, those are some of the things that you'll have to do:
Research long distance moving companies
Send out free quotes
Ask your friends and family for a recommendation
Research moving insurance 
Educate yourself about hidden quotes
Book a moving date – Avoid moving on
Declutter to achieve a stress-free long distance relocation
Decluttering is the first step towards packing. To successfully pack, you'll first have to go through your belongings. Get rid of the items that you don't want or need anymore. Many of them aren't serving us well, or at all – and we're keeping them because of sentimental value, or simply because we are just lazy to get rid of them. Now's the time! When you're decluttering, get rid of everything you don't need since the long-distance moves can cost a lot. Bulky items are the most problematic when it comes to long-distance moving, which is why you should think of the tactics we're going to talk about.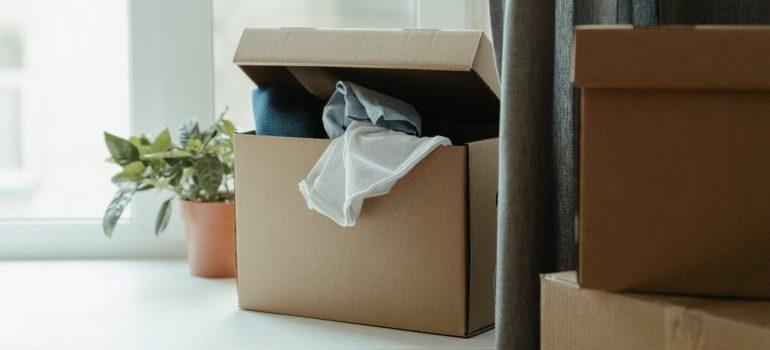 Sometimes, people sell their big furniture pieces and electrical appliances before they move long distance. That way, they get some money that they can later use to buy the same or similar furniture and appliances, all while not having to pay for the transport of heavy items to the moving companies.
Ask friends and family for help
Friends and family can help you in many different ways when we're talking about moving:
Advice on moving companies – Your family members and friends may have moved recently, or know someone who has. Even if you haven't moved to the same place, chances are that the same moving company can relocate you too. Let the bug out. See if you can find a good moving company by the word of mouth. It will mean a lot to you mentally, especially if it ends up coming from a person that you trust very much.
Physical help – It's very likely that you'll need physical help during your moving process. To ensure the help of your loved ones, call them a week or two in advance. "Book" them for the weekend. They can help you with packing, loading the truck, driving or maybe babysitting your kids. No task is too small since all of them are time-consuming, and in the moving process, you will always need more time.
Pack a bag for the day of the move
There aren't many quality movers who, like Orlando long distance movers, can execute a perfect moving day. To make sure you don't start your moving day stressed, prepare the moving-day bag days earlier. Have the last check the day before the move. If your movers are reliable and capable, they will be at your place right on time. You don't want to rush during that time – it would make the moving day your worst nightmare. Pack everything you'll need for the moving day:
A spare outfit
Necessities required because of the weather conditions
Food and liquids for the travel
Documents
If you travel with baby or kids, make sure you pack their favorite toys and blankets and spare outfits.

Hiring professional movers is detrimental to success when it comes to long-distance moves.

 
Hire a reliable moving company to achieve the stress-free long distance relocation
A stress-free long distance relocation can't happen without a reliable, quality moving company. State To State Move is at your disposal. To see why we're the right fit, give us a call and ask us all of your burning questions! We're more than happy to answer them all – whether they're about our temperature-controlled storage spaces, moving services, packing services, or our reasonable prices. With us, you won't have to fear your moving day – you'll look forward to it. Are you ready to book a stress-free move of your dreams?