If you are about to move, there are about a thousand questions that may be running in your head. How to pack? Which documentation do you need? Do you need insurance? In all that hustle and bustle, you just may forget to think what on Earth to wear on your moving day?! Luckily for you, we're here to help you out so read this article and get the best tips on this topic.
Do you even need to think about what to wear on your moving day?
Well yes, you do! Thinking about what to wear on your moving day may not be your top priority when it comes to relocation, but it can save you from unwanted stress during the move. For example, if you move state to state and need to hire long distance movers – you will just be thinking what is your best choice when it comes to choosing a good moving team. In all that chaos, you may end up packing your clothes and travel in new clothing… And that clothing may end up having stains, holes or even being ruined because of the hectic moving schedule.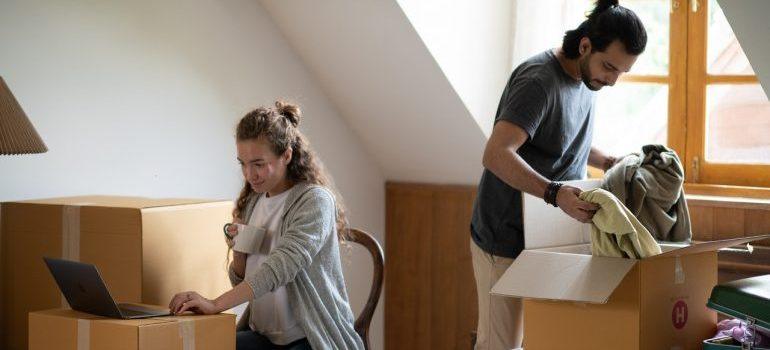 How to choose what to wear on your relocation day?
First of all, the clothes that you are wearing on your moving day depend on the season and weather. For example, if it's extremely cold, you first need to learn how to dress for winter and then see what you will wear. On the other hand, if it's too hot, you should not dress in polyester or any other clothing that makes you feel warmer. But – do not wear slippers as you may slip and hurt yourself during the move. So, be sure to check the weather forecast for your moving day.
Further on, you should organize, coordinate, and unify. Of these three words, coordination will have the most impact on the efficiency of your relocation. It is also the most difficult of the three to perform. As we said, if you move far away, you should look for long distance movers Miami as soon as possible. Then you need to see which clothes can you wear and which can you throw away. Most of the people think you should wear old, shabby clothes during the move, but this is not true. First, you need to go through your closets. The task may seem daunting, but all it takes is a few safe steps to help you reduce the net amount of clothes you need to transport to your new home.
Here is the formula: divide all your clothing into piles of:
New clothes
Clothes you still wear
Clothes you don't wear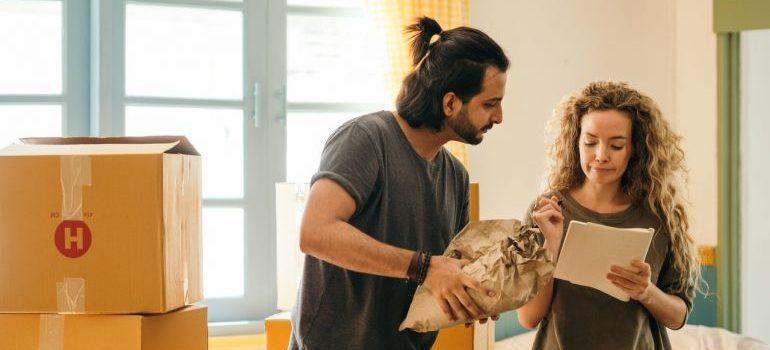 It's not rocket science, but for some, it may be the hardest and scariest element of moving. Why is it so hard? We are a nation of fashionistas. The more we own and the better we look, the better we feel. Whether it's shoes, underwear, jewelry, sneakers, or shirts, it doesn't matter; we will always want more. So – you know that blue peacock t-shirt that will go back in style, or that red sweater that grandma made? Well, you don't really need that. But you can't also wear them during the moving day.
How do you decide what to keep
In basics, if you can't get away with these extra items, consider selling them or donating to charity. Ok, but what does this have to do with what you are wearing on the relocation day? Well, once you have removed all the extra baggage, it is time to pack what you have left to move. Then you will see all the clothing that you can wear and not feel sorry if you ruin them during the moving process. 
Keep in mind that whether you are packing for moving abroad or here for moving locally, you should know some of the best and most effective ways to pack clothes. And if you are not aware of it yet, the packaging is an art. The best way to pack clothes for relocation will be different for everyone, depending on your unique situation. That's why our advice is to get full packing services that will save you time and money. Also, you may have limited closet or shelf space in your new apartment, which is why you need to rent storage.
So – what to wear?
First, do not wear clothes that are too tight or made of artificial material. The best choice is to wear clothing made out of cotton, viscose, or any other type of natural material. You should always wear something that you feel comfortable in. On the other hand, do not wear clothes that is too loose, as you may need to lift something and clothes can get in your way. As for the shoes, choose some footwear that is not slippery and that you can be on the whole day.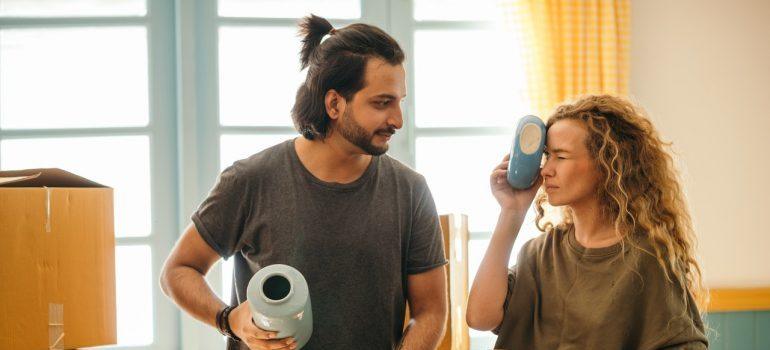 It's slightly different when it comes to corporate relocation. You still may need to look professional during the move, so choose some older suits or dresses that you don't care that much about. Again, if you move further away, pack several outfits that you can change into.
Additional tips
Make sure to have one extra t-shirt on your hand or an additional wardrobe in case it rains. Also, bring an additional pair of underwear in case things don't go as planned and you end up moving longer than you should.