Moving cross-country is a challenge in itself, but when you add your children to the equation, it only becomes more complicated. Whether you are moving locally or to another state, the whole process can be very difficult and boring for the children. But it does not have to be so.  As a moving company, we understand how important it is to make the whole process as easy as it can be for your family. In the next lines, we will provide you with some tips on how to keep kids occupied while moving cross-country.
The best way to keep kids occupied while moving cross country is to involve them in the process
Even though is it better to have professionals, such as interstate movers Texas, do the work, involving kids in the process can make everything more interesting. You can make them in charge of getting their room ready. The activities you can give them also depend on the age of your children.  We can provide you with examples for all of them.
Activities according to age
If your kids are younger, you can make everything feel like a big game. Set up an award board, and for each activity, they complete, give them a sticker. This can engage them, and make it fun for them. It will also remove the stress from the process since they will understand it as a fun game. Do not make the activities too difficult. The tasks you can give:
count the boxes
label the boxes
separate toys, clothes, and books
declutter the room.
If you are dealing with teenagers, well, let us face it, they take everything so seriously. Of course, kid's games are too beneath them. Besides packing and decluttering their room, they can do something else.  They can participate in designing their new room. Let them think of ideas and things they can do to make their room more comfortable.
Make sure your children know you are there for them
You will be overwhelmed with all the tasks you have to do, but try to make more time for your children. Answer any questions they might have. For example, if you are moving from Texas to New York, research the new city together, and make a plan which places you are going to visit once you get there. Talk about their feelings, and let them know they do not have to be scared or worried.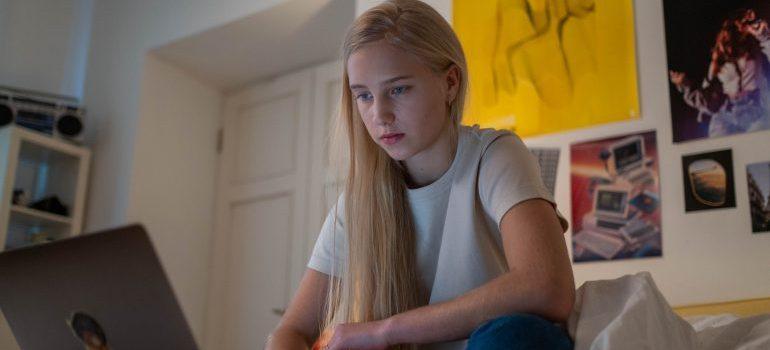 Other ways to keep the kids busy while cross-country moving
If you are moving during summertime, you can send them to summer camp, or to their grandparent's home while you finish everything. If you get a bit too overwhelmed by packing everything and trying to find the right interstate moving companies NYC, perhaps it is better to send the kids away for a while. Make sure they spend quality time with their friends. They can even plan for the farewell party together.
We hope you found some of these tips useful, and even though some of them may seem time-consuming, we guarantee you will not regret trying them out! They will help you to keep kids occupied while moving cross-country.