You thought that the whole process of moving and packing is the most complicated thing? Also what to unpack first after moving?  Well, you made a mistake. People often pack things fast, to save time and in order not to get too tired. Sometimes they hire a professional moving company to pack their things and load the truck. But when it comes to unpacking, serious nightmares arise.  
Besides unpacking is a difficult and exhausting thing to do, people usually dislike unpacking. Just remember how nervous you are when you come back from a summer trip and you have to unpack your luggage. Imagine unpacking the whole house! You realize that you can't just do the unpacking. You need to have a plan for it. You're certainly wondering what to unpack first after moving? If you want to unpack things effectively and without stress, check out State to State movers tips! 
Set priorities before landing in your new home to ensure a bit smoother transition!
Before all – do the cleaning! 
Never start unpacking things in your new home, without cleaning first! Yes, it may sound like a waste of time because when you unpack all boxes and furniture you'll have to clean it again, but deep cleaning and freshness are the essential things you need when you move to a new house. The dirt and dust can cause a real mess and even damage your furniture. Ask your family members or friends to help you. Besides, the rooms will be easier to clean and fill with boxes. If you really don't have time for tidying, cleaning and unpacking boxes, consider contacting professional movers!  
Large pieces of furniture – always unpack first after moving! 
Of course, large pieces of furniture should be unpacked first. Beds, furniture, tables, closets, and couches are the things you'll need first too. The first couple of days after moving, you're going to use tables, beds, and couches. So, what are the things to unpack first after moving? If you unpack and place aside larger pieces of furniture, it will be easier later to unpack smaller boxes. The first day after moving you can unpack bed, couches, the big screen TV, or anything large you have. Put that essential in your living room, bedroom or kitchen and you'll get a clear picture of your new home. After that, you can decorate and seek some cheap home renovation tips for your house and unbox small boxes.
Beds and large pieces of furniture are the MUST unpack first after moving.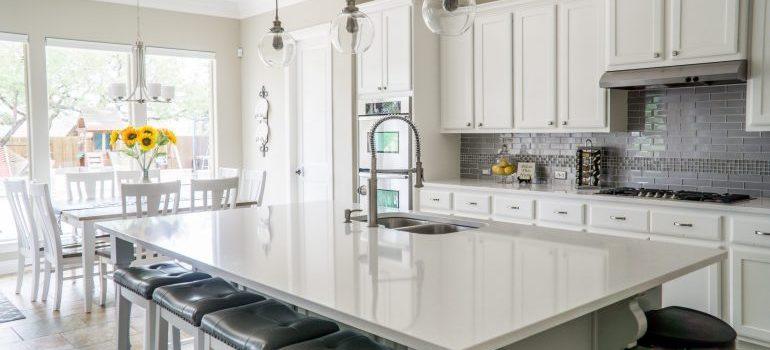 Unpack kitchen and bathroom essentials. 
What to unpack first after moving, besides larger parts? Think logically, the things that you will use first. Sleeping, eating and taking a shower are the essential and first activities you'll do in your new home. So, make sure you unpack kitchen and bathroom essentials boxes. Before moving, you can pick one box and mark it with "essentials". You can put kitchen tools and bathroom accessories in there. After moving, you can find it easily and unpack it. Kitchen tools are ofter our necessities, so unpack them first and put them away. You can line the kitchen cabinets and place major tools on cupboards. If you're not a morning person, you may want to plug in the coffee pot and toaster first.
Think about unpacking things that you're going to use first, like kitchen and bathroom essentials.
Sort out moving boxes to the room they belong to. 
When we think about things to unpack first after moving, we're also thinking about which room to go first? You should make a plan for all the rooms in your new home. Then, sort big and major boxes where they belong. After that, do the same with small boxes. As you saw, major rooms where you should unpack first are the bedroom. Living room and kitchen. If you were smarter earlier, so you have photos of how everything was in your old place, it will be easier for you now to arrange everything. Go from room to room and unpack the large boxes with furniture. Of course, if you have big board games, piano, rare plants or expensive vases you should take care of it first. Fragile items should be carefully unboxed and placed in a safe place while you're going to unpack other things.  
When it comes to unpacking boxes, labeling boxes with the name of the room they belong to, as well as "fragile" may be of great help.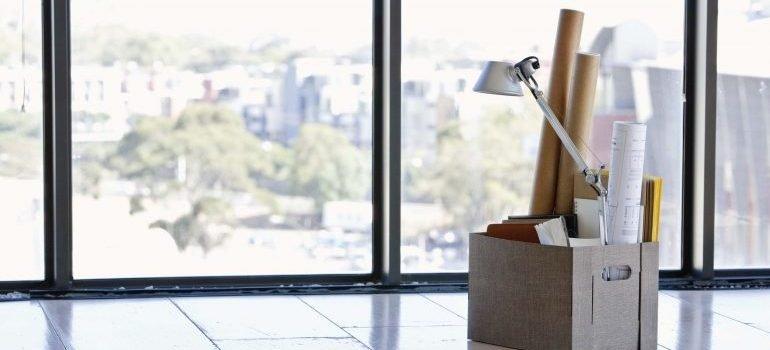 Unpack first after moving: Kids have priority! 
What to unpack first after moving if you have kids? If you have a children's room, unpack its boxes as soon as you can. Beside essentials as a bed, table, major clothes and shoes, unpack their favorite toys, books or video games. Kids like to play. And they will probably ask for their favorite things after moving. So, make sure you label a box with their favorite things and you can unpack it later. Before unpacking boxes for this room, you should definitely do the first thing we've mentioned in this article – deep cleaning. The healthcare and safety of your kids are the most important things. Protect them from the dirt, bacteria and let some sun and fresh air in their room! To make sure that transition to your new home goes a bit smoother for your kids you might consider taking them on some activities. You can consider some of the kid-friendly places, for example, make your pick and have some quality time and ease that stress on your kids.
Think about pets.
If you're moving with your pets, don't think about what to unpack first after moving to a new home. Pets don't own furniture or gadgets and clothes, but they have their needs. Think about their safety first. Pets don't know their new home, so make sure you don't let them out of kennel because they can easily get lost. Unpack the box with their toys, favorite blanket, food and water dish, and with medicines. Find the vast and the most suitable place in the house to unpack their sleeping kit or pet house. If you're relocating a fish or large house of your pet and you don't have experience with that, consider hiring residential movers to make you're moving comfortable and safe.