What is the best method for packing dishes for a move? If you've ever had to relocate your kitchen items to a new home, you know how easily you can break these delicate objects. Fortunately, by utilizing the proper materials and packing practices, you may avoid shattering your plates, bowls, and glasses. Do you want to know how to avoid breaking plates and other items by properly packing them? Long distance moving companies offer you tips on how to pack dishes for moving.
The most efficient method to pack dishes for moving
Get rid of unnecessary goods
To begin, remove any plates and glassware that you no longer want or need from your kitchen. The ideal method to pack dishes is to avoid packing and transferring objects that are no longer in use. For example, if you have a spare set of everyday tableware that you seldom use, we recommend giving or selling it before moving. It takes a long time to pack dishes and bowls. Also, if you have any kitchen appliances that you do not use, get rid of them along the way. You'll also require additional packing materials (e.g., more packing paper, boxes, etc.) to complete the task. Why waste time and money moving goods you won't use in the first place? Plates, bowls, and glasses that aren't used take up space in your kitchen cupboards that may be used for more critical goods.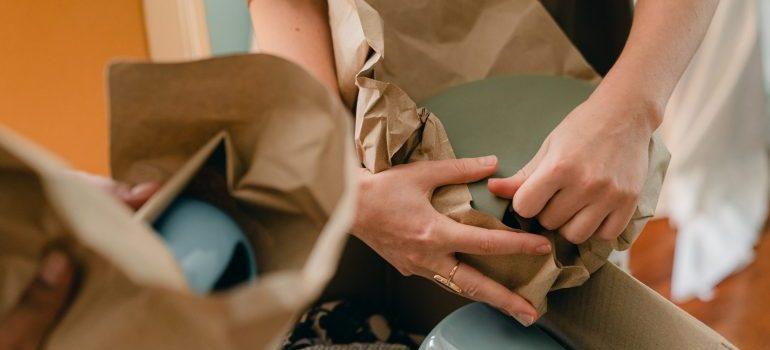 Before moving, set aside a few plates to use.
It's likely that you'll start packing far in advance of your move. That means you'll probably be packing all of your dishes for at least a week. What are your plans for dinner? Make a plan for what dishes, bowls, and glasses you'll use in the week or weeks leading up to the move before packing up kitchen items. We recommend either saving aside a few dishes for use or purchasing disposable plates for the week leading up to your move. If you opt to keep dishes and bowls for later usage, make sure you have enough packing items on hand to pack them all up before the move.
Collect the necessary moving supplies
Using the best moving supplies for the job is the best method to pack dishes. Your dishes, bowls, and glasses may not make it to the new house in one piece if you don't have the correct packing supplies. We recommend having the following relocation supplies on hand for packing plates and glasses. Moving supplies such as sturdy cardboard boxes, dish packing partition kits, glass packing partition kits, packing tape, packing paper, and dish wrapping paper, bubble cushion rolls, foam pouches, and a sharpie marker. These fragile and heavy things are best packed in small to medium-sized moving boxes. Call long distance movers Richmond to get more information, and help.
Put together the boxes to pack dishes for moving
Begin assembling your moving boxes after acquiring the necessary moving supplies. Ensure that these boxes are strong, corrugated, and pressure-resistant. When packing sensitive products, the last thing you want to utilize is a damaged box. If you're going to put your belongings in used cardboard boxes, be sure they're in good functioning order. Place the glass and dish packing partition kits inside the boxes once you have set them up.
When it comes to packing dishes and glasses, these are a must. Individual plates and glasses are separated and protected within the moving box using these cardboard partition kits. This keeps goods from moving and shattering during transportation. It also adds an extra layer of security to the contents. We recommend putting a layer of protective padding at the bottom of each cell divider after the partition kits are inside – whether it's packing paper, or bubble cushioning. You only need something to give your dishes and glasses an extra layer of protection.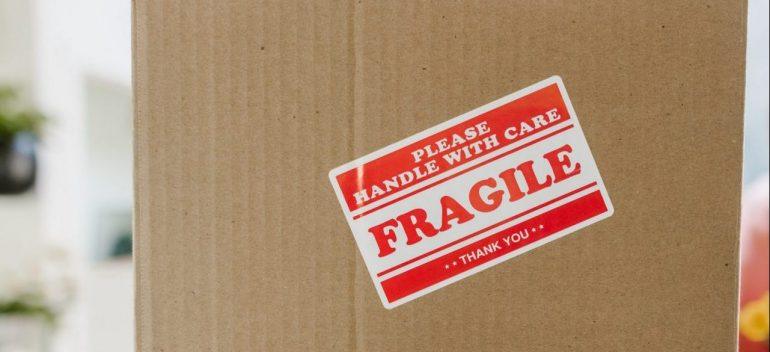 Begin to pack dishes for moving
It's time to start packing once you've gathered your supplies and put your boxes together. This guide will show you how to properly pack everything from dishes and bowls to glasses and china.
We will take a look at how to:
Dispose of plates and bowls
Pack cups and mugs
Pack glasses and stemware
Dispose of plates and bowls in the following manner:
We recommend laying one or two pieces of packing paper flat on the ground for plates and bowls. To move the plate or bowl, place it at the edge of the dish wrapping paper and wrap it around it multiple times. In the case of bowls, ensure sure the paper is also bunched up inside the aperture. Tape the packing paper in place. You can put dishes in foam pouches instead of packing paper if you wish. When the dish is well-protected, place it against one of the walls. Use foam peanuts or extra packing paper to fill any gaps. Close the box and fasten it with tape.
How to pack cups and mugs:
We recommend using packing paper or bubble cushioning to pack cups and mugs because these protective layers can easily be molded around goods to protect both the inside and outside. Wrap a layer of protective cushioning around the cups or mugs and attach with tape. Place one of the dividers into the moving box. Place additional cushioning around any empty spaces. Close the box and fasten it with tape.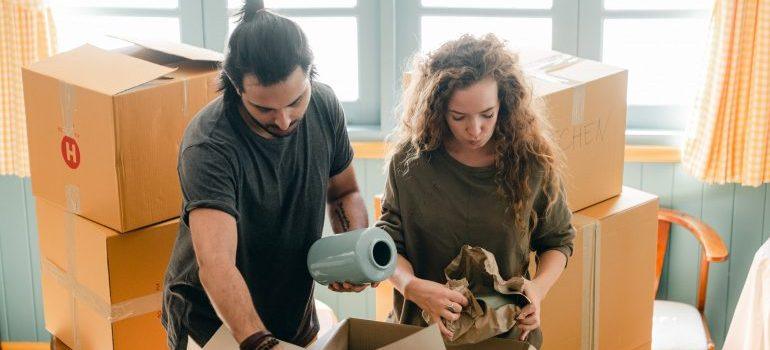 How to pack glasses and stemware:
Because glasses and stemware are particularly breakable, you must pack with extreme caution. To protect the items, you can use packing paper, bubble padding, and foam pouches – or a mix of these. We recommend rolling the glass or stemware item along with a sheet of this protective wrap if using packaging paper or bubble padding. Fill the inside gap with packing paper or bubble padding as you roll the glass or stemware piece. Make sure you appropriately protect the object if you're utilizing foam pouches. You might want to double up on the foam pouches and use two instead of one. Fill unfilled areas with more cushioning and carefully insert them inside the box. Using packing tape, secure the package.
Are you ready to begin?
Of course, using professionals to pack dishes for moving is the best option. Fortunately, there are a lot of them. Many movers and shipping businesses specialize in packaging and managing these types of items, which is fortunate. You don't have to look any further than long distance movers Texas to find them. Professionals are a great help when you want to pack your dishes for moving. Wishing you the best of luck and a smooth move!