Pantry is one of those areas where you really have to pay attention to how you pack the items within. Most of the items there are perishables, after all, and they require special consideration. Always check with the cross country moving companies before having them transport your pantry boxes. There are rules and regulations that govern the transportation of such items and you don't want to end up on the wrong side of the law. That being said, there are also some things that you need to do before you can safely transport your pantry belongings. You need to follow the right way to pack your pantry before the move, that is. This article is going to guide you through the process, step-by-step.
How to pack your pantry before the move with ease?
Here's the list of things that you want to do if you want to make packing easier on yourself:
Try to avoid grocery shopping a week or two before the move
Decluttering will help you pack your pantry before the move faster
Seal every box!
Use sturdy containers for heavy cans
Move all the snacks out
Hire professionals to assist you with packing and relocation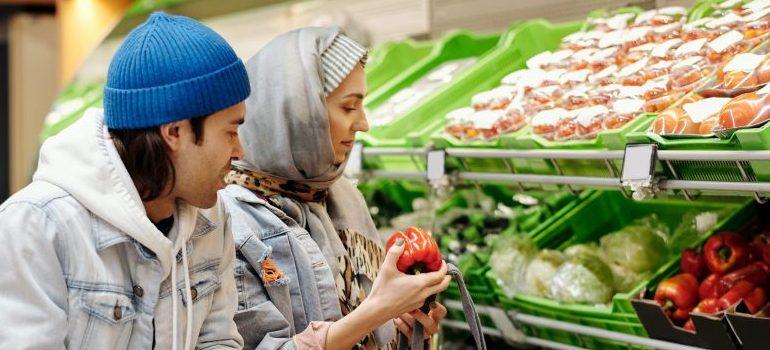 Try to avoid grocery shopping a week or two before the move
To start with, make sure that you are not adding any more stuff to your pantry a week or two before the relocation. You can always go grocery shopping at your new home, there is little point in doing it before. While that is quite obvious, you may simply default to your old routine and make it harder on yourself. Buy only what you need in the immediate future, even if it is a bit less convenient. If you are using cross country movers Houston to pack your items, this becomes even more important. By not having additional stuff to pack, the price will be lower and the process faster. But if you have a good reason for doing so, go for it. Just make sure to take some time to consider whether buying more groceries is absolutely necessary.
Decluttering will help you pack your pantry before the move faster
Our pantries can contain a lot of items that will not be used. Take some time before you start packing to see which items you don't really have to bring with you. Decluttering will make the packing process a lot easier. Your relocation will be a bit cheaper, as well. Especially if you are planning to hire full-packing services from a moving company. You can always give away your unnecessary items to friends or family members. Depending on the contents of your pantry, you may even sell them! Bottom line is, having fewer items to pack will be faster and cheaper. There will be less need for packing supplies and boxes and the effort required will be smaller.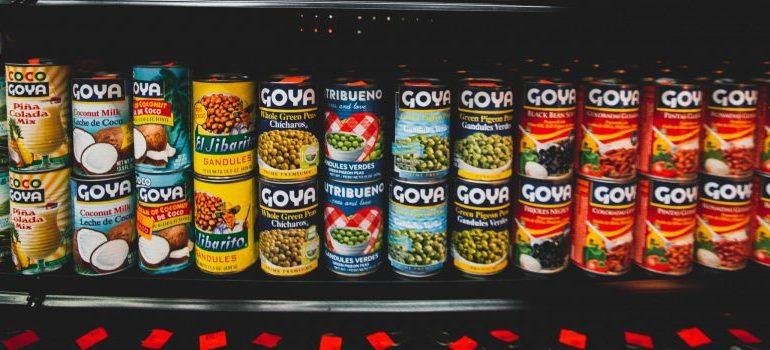 Seal every box!
It is really important to properly seal every single box when packing pantry contents. Most of the stuff in our pantries can create all sorts of nastiness if a spill occurs. That is why it is important to have quality packing materials for your boxes. Taping a box properly is something you might want to learn on the double. Also, you might want to separate the contents into small bags, for added security. Finally, you will also need to make sure that there is no extra space in the box. Try to fill the void with something like packing peanuts, packing paper, or even clothing. When you rattle the box, you want no sound coming from it.
Use sturdy containers for heavy cans
If you have heavy cans you need to transport, these require a bit of special treatment. Namely, you will want as sturdy containers as you can get. Plastic bins are great for this purpose, as are some corrugated boxes. Whatever you end up using, just make sure that the weight of the cans is not able to damage the container, even if there are some bumps on the road. The last thing you want is your container breaking and causing damage to your cans or spill its contents. That is going to make for a really stressful incident. It is always best to make sure that it cannot happen. Choosing the right boxes will make your belongings more secure and it may make you worry less.
How to pack your pantry before the move? – Move all the snacks out
Snacks are one of those things that you really don't need to be packing. It is always best to use them before the relocation. If you can't possibly consume them on your own, why not invite a couple of friends for a mini-party? That way, your snacks will serve their intended purpose and it will be a lot easier to pack the rest of the pantry. Having them around will just cause trouble when packing. You can always buy more snacks later, after all. Unless you have an extraordinary amount of them, in which case you might want to look into some packing solutions for them.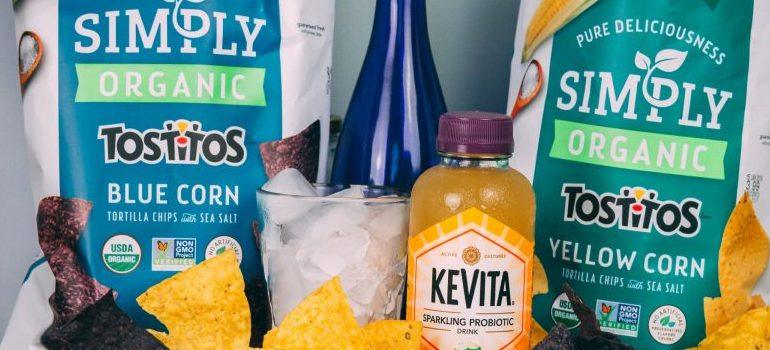 Hire professionals to assist you with packing and relocation
And speaking of packing solutions, you can always hire professionals to do your packing for you. You will not need to worry about a thing, just point to where your items are and they will do the rest. Having a moving company by your side during relocation is going to make everything easier. Even if the only thing that you need is some moving advice, simply contact us and we will do our best to help you. Every great moving company wishes to see a big smile on the customer's face and we are no different. Whenever you are feeling that the relocation is getting out of hand, you can always talk to us and we will assist. There are many services that can make your move a lot easier and leave you with a lot of free time on your hands.