When looking for a great city to move to with your pet, there are many factors to consider. Are there many parks, is whether pleasant, will it be affordable to live in? These are just some of the questions pet owners ask before moving to a new place. If you decided to move to Houston with your family and pets, keep reading. Before hiring one of many reliable household movers, take a look at our list of pros and cons of moving to Houston with a pet.
Pros of moving to Houston with a pet
If you decide to move to a new home in Houston with your pet, there will be a lot of upsides to this decision. This is one of the most popular Texas places for dog owners. Take a look at some of the important pros of moving to Houston with a pet.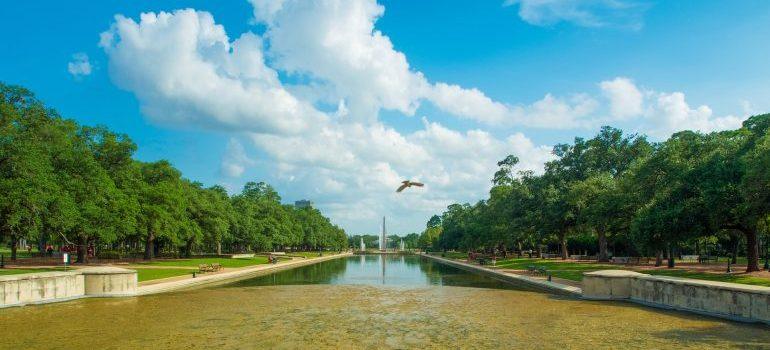 Plenty of outdoor spaces. If you plan to live with a pet in Houston, you will have plenty of outdoor spaces to enjoy. Houston is known for many parks which are perfect for families with pets. Holly Anawaty Dog Park and Pasadena Dog Park are just to name a few. Considering the position of the city, you won't have any trouble getting to the beach with your little friend.
It's the greenest city in the South. Weather in Houston during the summer months can be harsh. With humidity and high temperatures, it's easy for pets to overheat. Luckily, this is one of the greenest cities in Texas, which makes it perfect for dog owners.
Lower cost of living. Moving with a pet implies plenty of additional costs. If you need to groom your dog or bring your cat to a vet, you will spend less money in Houston. Compared to other states, Texas is more affordable to live in, which includes the care for pets.
Plenty of grooming salons. Houston is a pretty dog-friendly city, so you will not have any trouble finding everything you need for your pet.
If you decide to move with a large breed of dog, you might need to look for moving assistance. There is an easy way to find movers online, and many companies in the US provide pet relocation services. This service is a convenient solution for pet owners who need to move long-distance.
Cons of moving to Houston with pets
Even though there is a lot of pros of moving to Houston with a pet, there are also some downsides. Take a look at a few cons of living with pets in this city:
The commute. Just like many other big cities in the US, Houston is having trouble with the commute. If you plan to drive with your pet inside the car, this could be a difficult process. Traffic is often jammed in the middle of the day, so your commute could take more time than expected.
Difficulties of moving into a smaller home. If you are moving from a house to an apartment in Houston, this could be a bad idea for your pet. Luckily, there are plenty of suburban homes in this city you should check out.
Humid and hot weather. Locals say that Houston is famous for difficult weather, especially during the summer months. Summertime can be difficult for larger breeds of dogs, especially those with long hair.
How to prepare for moving with a pet?
Planning a family move is not an easy task, especially when there are pets involved in the process. The hardest part of this move is to prepare your pet for relocation while avoiding unnecessary stress. Some breeds of animals are sensitive to environmental change, but also to a different climate. In order to prepare your pets for the relocation, you will need to make a plan.
A few weeks before the move, make sure to keep your pet's daily routine steady. If you need to move to Houston with a dog, keep your daily walks at the same time and don't make changes to your pet's feeding schedule. If you are moving long-distance to Houston, start looking for moving companies state to state. The sooner you find pet relocation services, the better.
Besides taking care of your pets before the move, you will need to get additional paperwork. For moving to Houston with a pet from another state, you should visit a local vet. They will let you know all the details of your move and which paperwork you should prepare. Pet relocation can be a difficult process, but it doesn't have to be stressful. If you prepare the right way, both you and your little friend will avoid stress during the moving day.
Will you need special relocation services?
Many pet owners consider paying for pet relocation services, especially when moving long-distance. If you are not sure how these services work, the best thing you can do is ask your movers. Once you find the best interstate moving companies Houston has to offer, let them know you are moving with a pet. These services will cost you extra, but they will pay off big time.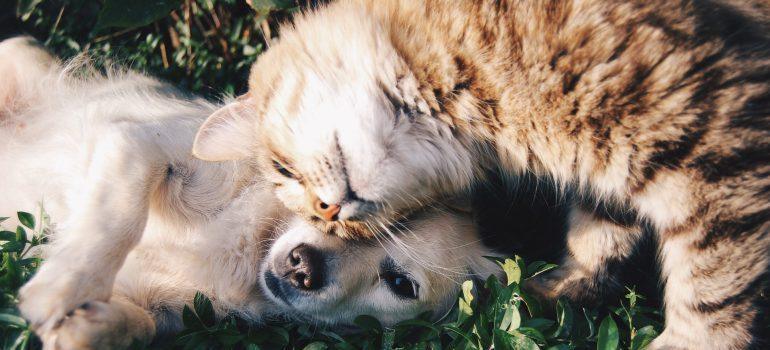 There are plenty of pros and cons of moving to Houston with a pet. If you still haven't made a decision, we hope our list helped you get a bigger picture. Since pet relocation can be complicated, you will need to plan every aspect of your move ahead of time. In other words, a good moving plan will help you, your family members, and your pet avoid unnecessary stress during the moving process.