Moving a household can seem like an intimidating process. However, with thorough preparation and professional help, it can become a breeze. This goes for any time of the year, but each season brings its own unique set of challenges with it. Here we have gathered some advice to help you with your summertime move in Texas. From choosing a reliable moving company, like State to State Move, to overcoming weather conditions, we have you covered. Keep on reading to find out!
Choosing a moving company for a summertime move in Texas
Firstly, what you want to do when planning your move is to do research on moving companies. Long distance moving companies San Antonio is offering are some of the best in the state. When looking for a potential moving company, you should make sure they meet some criteria:
the possibility of getting a free estimate of the cost of your move – this will allow you to compare the rates at different companies and choose what suits your budget the best
years of experience – you want the moving team to handle your belongings with care and professionally
good reviews and/or recommendations from former satisfied clients.

It is essential to choose a good moving company for your summertime move to Texas
Summertime is a busy period
According to the statistics, the busiest period when it comes to providing moving services is without doubt summer. The period from April to September is referred to as peak season. The reasons for this are that children are on vacation, as well as college students, and everybody's lease ends. As a result, many moving companies are flooded with work at this time of the year. Our sound advice is to book your appointment as soon as possible, preferably months in advance. That way you will accomplish at least one of your tasks early on and you will avoid a lot of stress later. There is nothing worse than contacting numerous moving companies only to find out there are no available appointments. In conclusion, book in advance!
Preparations for the move
Now that you have chosen a moving company and booked your appointment, it is time to start preparing for D-Day. Decluttering your home is a given. Moving houses is a perfect opportunity to get rid of some of the things sitting around your house and serving as dust collectors, in short, things you don't use anymore. Furthermore, while going through your wardrobe, you can put away the clothes for winter that you won't be needing. Since summer is around the corner, give your summer clothes a wash to get them nice and fresh and ready to wear. After your deep dive into the nooks and crannies of your home, you can organize a garage sale to sell some of the things or just donate to a local charity.
Packing for a summertime move in Texas
The next step to take is to start looking into how you are going to pack your furniture and other belongings. The first option is to buy the moving supplies yourself and start packing a couple of weeks in advance. However, there is also the option of hiring professional packers to do the job. This is a more expensive option, but one that will save you from a lot of stress. A team of professional packers will do the job on short notice and they will know exactly how to handle different items. If you still decide to pack on your own, be mindful of how you are packing heat-sensitive objects, like electronics. You want to provide extra protection from the heat. Also, try to empty your fridge before moving. Many foods will spoil in the hot weather.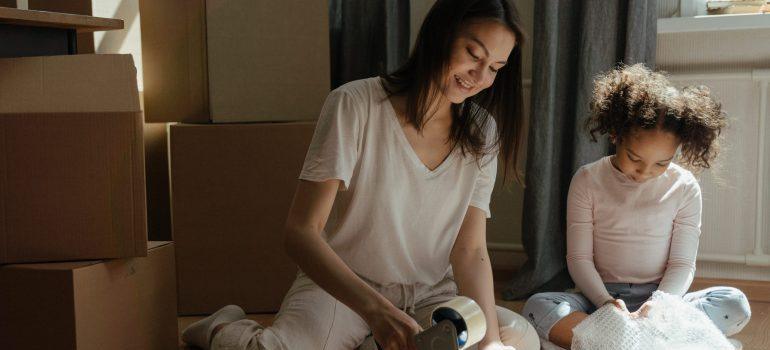 The day of your summertime move in Texas
Getting an early start
The best advice when moving during the summertime is to start early in the morning. In the morning the heat is still under control and this will make moving easier. The hours to avoid at all costs are late afternoon when the temperatures can rise up to 100°F. Long distance moving companies Austin, TX are well aware of this, so they will surely take it into account. Another great advantage that comes with starting in the early morning hours is that you will have more time to unpack when your moving crew leaves the stuff at your new home.
Handling utilities beforehand
It is advisable to sort out all your utilities in your new home before moving, if possible. Turning on the air-conditioning will be an immense favor to both yourself and the moving crew. Nobody wants to work in the scorching hot temperature. So, air-conditioned space is a must during a move in the summertime. Also, make sure that the bathroom utilities are functioning well. After a long day of sweating, moving, and unpacking, you will want to enjoy a refreshing shower in your new place.
Hydrate yourself
This might sound like obvious advice, but many people forget the importance of hydration. Stress, heat, and physical activity can rid your body of the necessary fluids. So, make sure that you are replenishing them often throughout the day. Always have a water bottle or a drink rich in electrolytes by your side.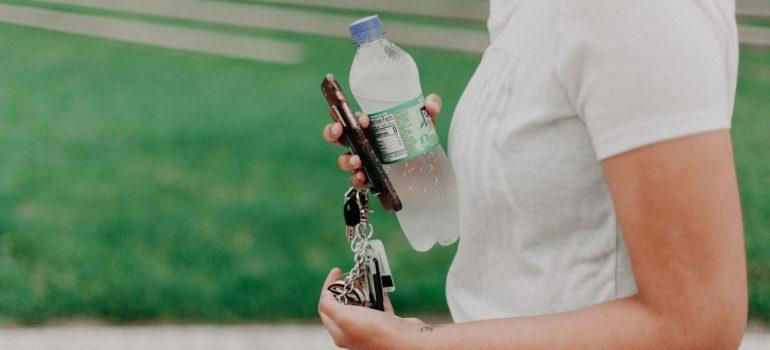 Sun protection
The sun can be ruthless during summertime in Texas, so your best bet is to use SPF. You don't want to end up with sunburns when you have to unpack and get settled in your new home. Consider wearing a hat as further sun protection and wear some light clothes in which you won't sweat too much.
Wrapping up your move
If at any point of the moving day you start to feel light-headed and exhausted, you should stop what you're doing and get out of the sunlight immediately. However, if you take breaks regularly and are drinking water, you will most likely be fine. The day is coming to an end and you are finally able to relax in your new home away from the sun and unbearable heat. Your summertime move in Texas has gone without hiccups and you are ready to start exploring your new surroundings.