There's no better feeling than moving to a new apartment and making it your home. Relocation is a start of a new chapter in your life. A fresh new start should be stress-free and enjoyable. However, people usually feel worried and scared about new things. That's why it's important to have a cozy environment where you feel safe. There's no better place to feel relaxed than your home. It's the starting point of everything. However, most people do not feel at home after moving, especially having a bunch of boxes all around their new apartment. Yet, there are steps to turn your apartment into a home quickly and efficiently. Wonder how to make your Austin Apartment feel like home? State to State Move is here to guide you. Make yourself comfortable and refer to this ultimate guide on how to make your Austin home cozy and warm.
Things to do before the move
There are many things to do in your new apartment before the actual move. However, it's not possible to manage both your relocation tasks and deal with cleaning your new apartment, especially when moving interstate. That's why you should hire the best interstate moving companies Texas so you can manage everything on time, and successfully.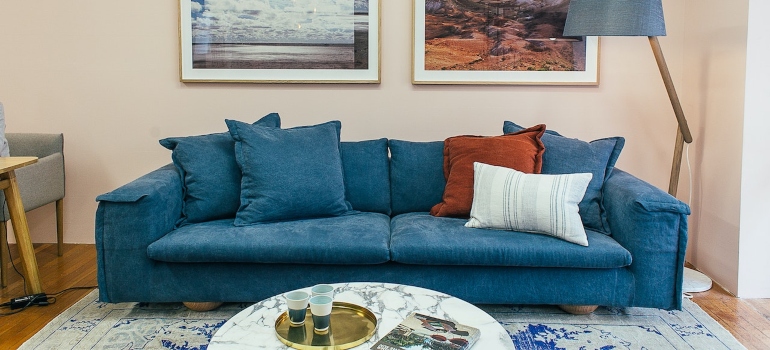 So, while your movers are packing up your belongings, you can use this time and deal with your new apartment and general preparations such as:
Painting the walls: It doesn't matter whether the walls have been painted recently, it would be a great idea to refresh the color. Play with the colors but pay attention to the lightning.
Deep cleaning: The best time to do deep cleaning is before the move since you won't have enough time and space to do it when the apartment is filled with boxes. Clean the windows, kitchen and bathroom tiles, and any other surface you find dirty.
Dealing with lightning: Lightning is the key to a cozy home, so make sure to obtain adequate chandeliers and lamps.
Making a floor plan: It will serve you as a guide on how to arrange the furniture, but it will also help you declutter your belongings.
Planning the decor: Nothing feels more like home than nice decoration. Be creative and make your new home a fairytale.
Arranging your apartment after the relocation: Where to start from?
Relocation is finally over, and more beautiful tasks are awaiting you – making your Austin apartment feel like home. Wonder where to start? Start from the inventory list and your floor plan. Use the opportunity that your state to state movers Austin are still here and guide them on where to place the furniture. Also, ask the movers to reassemble the furniture to avoid any damage. Next, unpack room by room. Start from the room of your highest priority (our recommendation is to start from the kitchen since it has a lot of breakable items). After you unpack, move on to decorating the house. Following are some of the tips on how to make your Austin apartment feel like home. Enjoy decorating.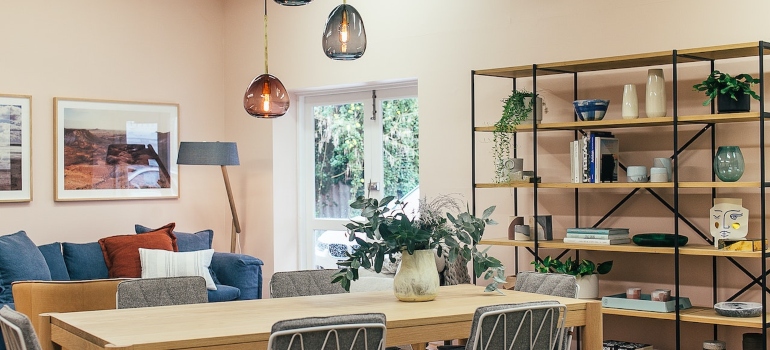 Decorate to make your Austin apartment feel like home
Here comes the best part – decorating your apartment. Details matter. They make your Austin apartment feel like home. There are plenty of decoration ideas you can use, depending on what effect you want to achieve. However, there are some universal tips and tricks that can make your apartment warm and cozy:
The nose knows: Candles, scented sticks, or diffusers add to the coziness and signature of your home. Besides, a familiar fragrance can help you get accustomed to your new apartment easier since it will remind you of home.
Buy cushions and blankets: Besides being practical, cushions are great details to make your living space comfy. If you like to experiment, use effective colors.
Bring nature inside: No home goes without plants. Besides being very useful and healthy, plants give home livability.
Add frames: The family wall gallery is very popular nowadays. So, choose the best memories and frame them. Play with the photo presets to make the photos look similar. Most people choose black & white filters. Choose nice frames that fit your interior.
Add furniture: Although you probably have enough furniture, it wouldn't be a bad idea to add some more pieces. Add seatings such as tabourets, and lazy bags, make reading corners and add table consoles. If you don't know how to reassemble the furniture, your long distance movers in Austin can help.
Lay down rugs: Investing in a quality rug will bring warmness to your new home. Besides, they open up the room.
Don't forget about the curtains: Besides keeping your privacy safe, curtains add to the overall impression of the space. They can turn it into a warm or cold one, so think about what kind of curtains to place. Our recommendation would be to buy milky white curtains for a cozy experience.
Make some memories
There's no better way to make your Austin apartment feel like home than to make memories. Start making them immediately after you move. Make them while you are still arranging the apartment. Play familiar music, organize a favorite nook, and take photos of your family and your new home. Organize a pillow fight and have fun. Besides, you can bake your favorite cookies whose aroma will remind you of home. After arranging and decorating your new apartment, throw a housewarming party. This way, you'll feel at home.
Make your Austin apartment feel like home with State to State Move
Moving home is challenging, stressful, and emotional, and at the same time, it can be very exciting. You are entering a new chapter in your life, so you should do it in great style. And there's no better way than to rely on our Austin movers. With them by your side, you'll be able to focus completely on arranging your new apartment. Make your Austin apartment feel like home as soon as you move in since our movers Austin will handle the post-moving tasks swiftly and efficiently. Contact us today, get your quote and move like a pro. Enjoy decorating your home.