Welcome to our guide on moving to Sugar Land with pets. Nestled in the heart of Texas, Sugar Land boasts a reputation as a pet-friendly haven. We understand that moving can be stressful, especially when it involves your furry companions. Therefore, we've crafted this guide to ease your transition. We'll cover how to prepare for the move with reliable state to state movers, settle into your new home, and explore the city's pet-friendly amenities. Moreover, we'll delve into how to connect with Sugar Land's vibrant pet community. So, leash up your pets and pack your bags – we're about to embark on an exciting journey to Sugar Land.
Preparing for a Pet-Friendly Move to Sugar Land
Relocating with pets requires meticulous planning:
Begin by researching pet-friendly housing options in Sugar Land.
Next, scout out local veterinary services
Plan a safe and comfortable journey for your pets
Consider hiring movers
Find a pet-friendly home
Relocating with pets requires meticulous planning. Finding a pet-friendly home is one of the first things to do after moving to Sugar Land. Start your pet-friendly housing search online. Websites like Zillow or Realtor allow you to filter for pet-friendly properties in Sugar Land. Consider your pet's needs: larger dogs may require a fenced-in yard, while cats might prefer a cozy apartment.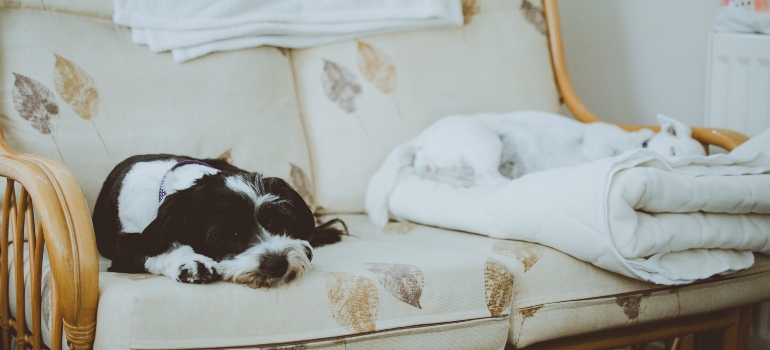 Visit potential homes to gauge suitability. Check the surroundings for safety concerns like busy roads or lack of sidewalks. It's also worth asking about pet policies, including any restrictions or additional fees. Remember, your pet's comfort should be a priority in your decision-making process. With thoughtful research, you'll find a home that's perfect for both you and your pets.
Securing Your Pet's Health in Sugar Land
Establishing veterinary care in Sugar Land is crucial for your pets' health. Start by researching local clinics and animal hospitals online. Reviews and ratings can provide insights into their quality of care. Once you've shortlisted potential vets, schedule a visit to meet the team and assess the facilities. Prior to your move, ensure your pets are up-to-date on vaccinations and have sufficient supplies of any required medications. Also, ask your current vet to provide copies of your pets' medical records to share with your new vet. If, at some point in the future you decide to move from Sugar land to New Braunfels, you'll have to go through the same process again. Because of that, write down every step and useful tips to make the process easier.
Planning a Comfortable Journey for Your Pets to Sugar Land
Planning a safe and comfortable journey for your pets is another crucial step. A pet-friendly travel route involves considering your pet's comfort and safety. If driving to Sugar Land, map out a route with ample rest stops for bathroom breaks and exercise. Consider investing in a comfortable pet carrier or car seat for added security. If flying, book direct flights when possible to minimize travel time and stress for your pet. Check airline pet policies well in advance and ensure your pet's carrier meets their specifications. Regardless of your mode of transport, pack a travel kit with food, water, a leash, waste bags, and any necessary medications. A well-planned route ensures a smoother transition for your pets.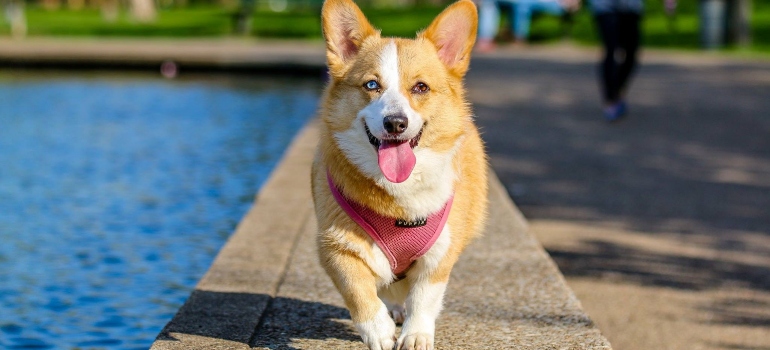 Lastly, think about hiring professional movers to aid in this process. Engaging long distance movers Texas offers, who specialize in pet relocation, can be a game-changer. They're trained to handle pets with utmost care, making your move smoother.
Settling into Your New Sugar Land Home with Pets
Settling into your new home will be easier for both you and your furry friends if you apply the following tips:
acclimate your pets to their new home
create a comfortable space for your pets
understand Sugar Land's pet-related ordinances
Acclimating Your Pets to Their New Home
Once your Houston long distance movers have delivered your belongings, it's time to introduce your pets to their new home. Start small, limiting them to one area initially. This can help avoid overwhelming them. Gradually increase their access to the rest of the house, supervising their exploration. Keeping their routine consistent during this transition period can also provide a sense of security.
Creating a Comfortable Space for Your Pets
Creating a comfortable space for your pets in your new Sugar Land home is an essential step toward their well-being and adaptability. This dedicated space should serve as their sanctuary – a place where they can eat, sleep, and play in peace.
If you have a dog, consider setting up a crate with their favorite blanket and toys. A crate not only provides a secure sleeping area but can also serve as their safe haven during the initial adjustment period. For cats, a cozy corner with a comfortable bed, scratching post, and a spot to perch and observe can work wonders.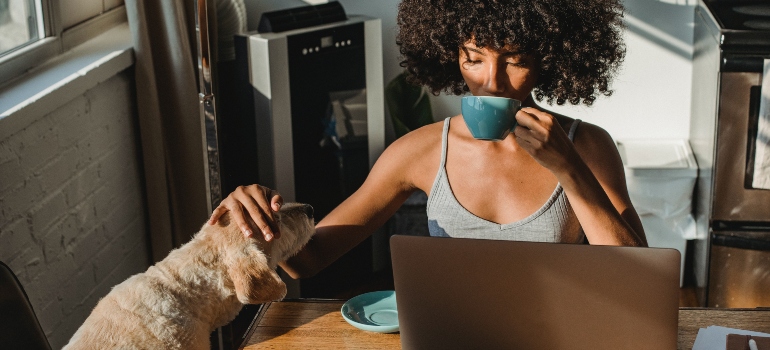 Remember to place their food and water bowls in a quiet, low-traffic area where they can eat without disturbances. Similarly, litter boxes for cats or designated bathroom spots for dogs should be in easily accessible, yet private areas.
Toys and personal items carrying the scent of your old home can provide added comfort. These familiar smells can help reassure your pets, making the transition less stressful.
Ensuring safety is paramount. Check the space for potential hazards like toxic plants, loose wires, or small objects that could be swallowed. A safe, comfortable space, coupled with patience and love, can significantly ease your pets' adjustment to their new home.
Understanding Sugar Land's Pet-Related Ordinances
Finally, familiarize yourself with Sugar Land's pet-related ordinances. This may include leash laws, pet waste cleanup requirements, and any breed-specific legislation. Understanding these rules not only keeps you compliant but also ensures the safety and well-being of your pets and the community. You can typically find this information on the city's official website or through local pet organizations.
Discovering Pet-Friendly Sugar Land: Parks, Eateries, and Shops
Sugar Land, renowned for its pet-friendly vibe, offers numerous spots to explore with your pets. Oyster Creek Park, with its expansive greens, is a great place for dogs to play. The park's walking trails are ideal for a leisurely stroll with your pet. Brazos River Park, another beautiful location, provides ample space for outdoor fun.
For dining, head to Guru Burgers & Crepes. This eatery not only serves delicious food but also welcomes pets in its outdoor seating area. Another fantastic spot is The Toasted Yolk Café, known for its pet-friendly patio.
The city is also home to several pet-friendly stores. PetSmart in Sugar Land Town Square, for instance, allows pets to shop alongside their owners. Remember, moving is stressful for pets too, so exploring new places together can help them adjust. A local guide or advice from long distance movers Sugar Land offers can also be helpful.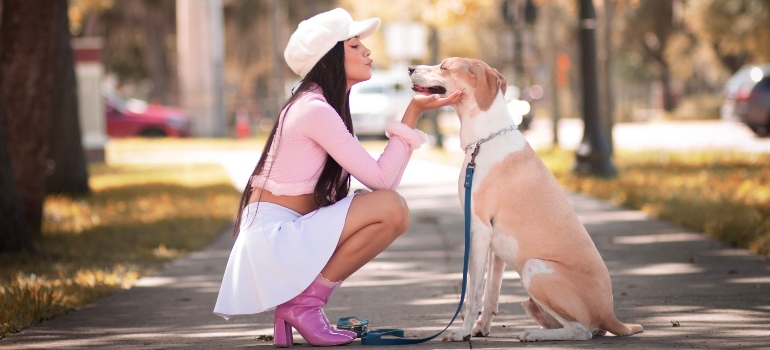 Safety is paramount when exploring Sugar Land with your pets. Always carry water and snacks for both you and your pets during your outings. Ensure your pets are leashed in public areas to prevent them from running off or getting into unsafe situations.
Be mindful of potential hazards such as traffic, aggressive animals, or harmful plants. Some areas may also have specific pet regulations, so familiarize yourself with these before setting out. The joy of exploring a new city with your pets is a unique experience. Enjoy it while keeping their safety and comfort in mind.
Fostering Connections in Sugar Land's Pet Community
Moving to Sugar Land with pets is a great decision because this is one of the most pet-friendly cities in Texas. In fact, its parks and community are some of the things you'll love about Sugar Land. Here are some ideas on how to become a part of the city's pet community.
Engaging with Local Pet-Related Groups and Organizations
Joining Sugar Land's pet community is a significant step in ensuring a smooth transition for both you and your pets. If you chose this city in the Katy vs. Sugar Land dilemma, becoming a part of its pet community will make settling in even easier. Being a part of this community doesn't just mean living among other pet owners, but actively engaging and building connections with them.
Local pet-related groups and organizations are an excellent starting point. Websites such as Meetup host a variety of pet-centric groups, from breed-specific clubs to general pet-owner get-togethers. These groups can serve as a platform for you to exchange advice, share experiences, and even organize playdates for your pets. They offer a sense of community, support, and companionship, which can be comforting during your transition.
Animal rescue organizations in Sugar Land also provide opportunities to meet like-minded individuals. By becoming a member, you can contribute to these organizations' invaluable work and connect with people who share your passion for animal welfare. These connections can lead to friendships and a strong support system in your new city.
Furthermore, being involved in the pet community opens up a wealth of knowledge. From learning about the best local pet services to discovering new pet-friendly spots in the city, these insights can help you navigate pet ownership in Sugar Land.
Participating in Pet-Related Events and Activities
Sugar Land is a city that truly celebrates its pets. Throughout the year, the city's calendar is dotted with various pet-centered events and activities, making it an ideal place for pet owners. One of the city's highlights is its pet parades. These joyous events offer a unique chance for your pets to strut their stuff and make some new friends, while you enjoy the spectacle and camaraderie. They're colorful, fun, and a testament to the city's love for its pets.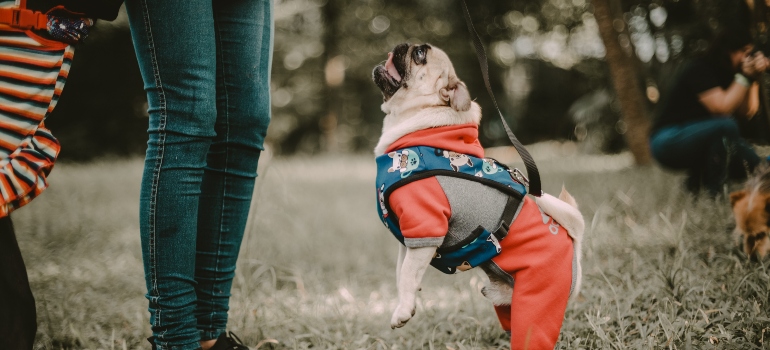 Adoption events are another common fixture in Sugar Land. These gatherings not only give homeless pets a chance at finding a loving home, but also serve as a gathering place for local pet lovers. Here, your pets can socialize and you can exchange tips and experiences with other pet owners. Dog-friendly festivals are another treat. These events often feature pet competitions, training demonstrations, and even pet-centric vendors. It's a day out for your pet while offering you the opportunity to discover new pet products and services.
Volunteering at Local Animal Shelters or Rescue Organizations
Volunteering at local animal shelters or rescue organizations in Sugar Land offers a multitude of benefits, both personally and for the community. Animal shelters such as the Sugar Land Animal Services or local rescue organizations are always in need of helping hands. By contributing your time, you're directly impacting the lives of pets in need.
This rewarding experience not only helps animals find their forever homes but also allows you to connect with a network of individuals who share your passion for animals. You'll find camaraderie and support within this community, which can make your transition to the city of Sugar Land much smoother. What's more, volunteering can provide a unique learning opportunity. From understanding animal behaviors to learning about different breeds, medical issues, and the nuances of animal care, your experience can enhance your knowledge and skills as a pet owner.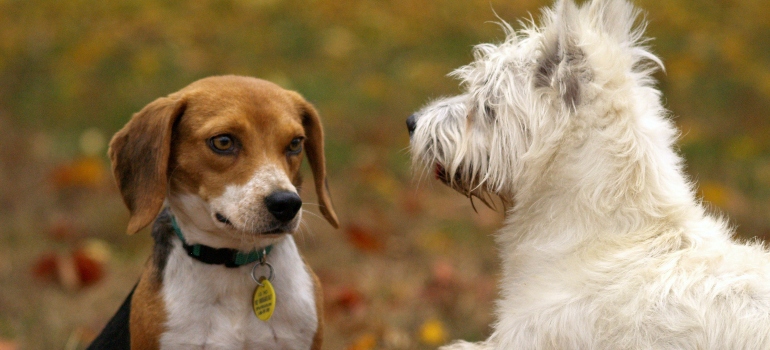 Moreover, your pets can also benefit from your volunteering. Bringing home new knowledge or skills can enrich their lives and strengthen your bond. Plus, you may even bring home a new friend for them from the shelter! By volunteering, you're not just giving back to the community and helping pets in need. You're also embedding yourself and your pets in the fabric of Sugar Land, helping you all feel right at home in this pet-loving city.
Embracing a Pet-Friendly Life After Moving to Sugar Land with Pets
Moving to Sugar Land with pets can be a seamless and rewarding experience, provided you keep a few key points in mind. Preparing for the move, settling into your new home, exploring the city's pet-friendly spots, and connecting with the local pet community are all essential steps to ensure a smooth transition. We encourage you to share your own experiences, tips, and advice for living in Sugar Land with pets. Your insights can help others successfully navigate their journey to this vibrant, pet-friendly city. Lastly, don't hesitate to reach out to local resources, such as pet-friendly parks or animal rescue groups, for support and guidance. These organizations can help you make the most of your new life in Sugar Land with your beloved pets.