Texas is a place where people of all ages are welcome. And, it also has so much to offer to everyone. At the time being, Texas has more than 30 million citizens. And many more are constantly moving to the state of Texas. Among them are many young adults. Well, that is not a wonder. Texas has one of the fastest-growing economies in the US. Besides, the great job opportunities, it also offers high quality of living, affordable housing, and a low cost of living. With over 40 cities to choose from, it is not so easy to decide which are the best places to live in Texas for young adults. This is why we have done some research for you and prepared a shortlist to help you find the right place for yourself.
Why is Texas great for young adults?
If we had to answer this question using just one word, it would be affordability. Texas is a perfect state for those looking for a low cost of living. On top of that, there are many great job opportunities. As a young adult, you stand a much better chance of getting an attractive job in Texas than in other states. A good job also means a good income. Also, keeping in mind real estate affordability in this large state, you can be sure that you will get your own home soon.
Besides getting an attractive job in one of the Fortune 500 companies, you may want to start your own business too. If so, you should check the conditions with the Texas Governor's Office of Small Business Assistance. Small businesses in Texas are needed, especially in small towns. So, the local governments are ready to support them with grants. And, if you are a nature lover, opt for living in a small town and you will be surrounded by stunning Texan landscapes.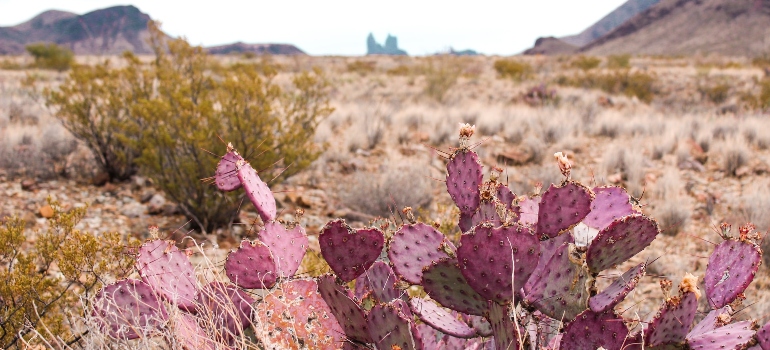 Texas is affordable
Living in Texas, you will not be charged income tax. That way, you will be able to afford much more than in other US states. Additionally, you can choose an electricity supplier and save on electricity bills. You will also find out that the other bills are much lower than in other states. And, that the most famous specialties of Texas-Mexican cuisine are big and very affordable. As well as many groceries and other costs of living. All in all, Texas is a great place for young adults to successfully start their careers. If you are ready to join them, give a call to long distance movers Texas and start packing your bags!
Dallas is great for young adults
Dallas is home to more than 1,3 million people. In case you love living in metro areas, it will be the right place for you. The city, being a Texan financial hub, provides some of the best employment possibilities in the state. So, for young adults ready to enter the business world, this could be a city of great opportunities. However, before deciding to move to Dallas, you should learn a bit about living conditions.
Living in Dallas
Despite its size, you won't have any problem meeting new people. You will witness the famous southern hospitality and the Texan openness and habit to accept new people quickly. This is good news, as it will help you to adjust very fast to your new city.
You should also know that most of the people in Dallas are renting, and only 41% own their homes. The median rent in Dallas TX is $1,100 and the median household price is $208,700. Although many are renting, with a median income of $54,747, you will be able to purchase a home rather easily.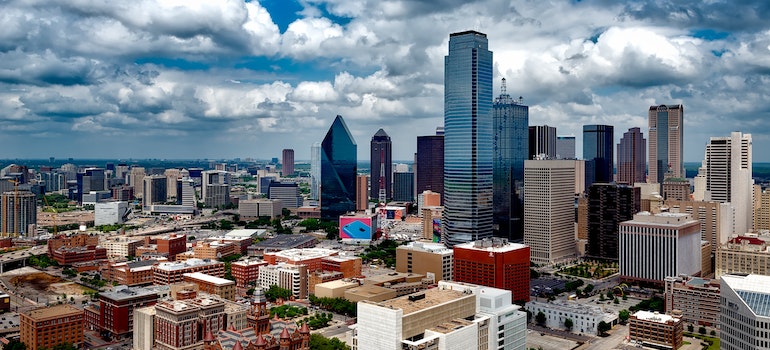 Top neighborhoods in Dallas
Safety in Dallas varies from neighborhood to neighborhood, therefore, make sure to do some research before you move. Although Dallas has over 100 neighborhoods, some of the most popular are:
Preston Highland
Campbell Green
Prestonwood
Greenland Hills
Once you find the right place, rely on long distance movers Dallas to safely bring you to your new home. You can leave all the moving tasks to them while you concentrate on other important things, like transferring utilities and researching your future neighborhood.
Fort Worth is safe and affordable
This city has 892,221 residents. Just like Dallas, Fort Worth has excellent employment possibilities. However, unlike Dallas, living in Fort Worth you will feel a more relaxed atmosphere. It also differs in terms of affordability. The median home price is $190,400, and 57% of residents own their homes. In case you decide to rent, it will cost you $1,115. And the median home income is $64,567, which is higher than Dallas's median income. If you plan to move here from another state, make sure to enlist the help of professionals. Moving from state to state is easier and safer with a professional moving team by your side.
Houston is one of the best places to live in Texas for young adults
Houston is the largest city on our shortlist of the best places to live in Texas for young adults. Having 2,3 million residents, it is the 4th largest city in the country. However, like in many other Texan cities, you shouldn't rely on public transportation. Like in other Texan towns, having your own car is necessary. And, in a city as large as Houston, that can also mean long commuting times and often traffic jams.
Living in Houston
A median household income is $53,600, which is lower than the national average. When it comes to the median household prices, they are also lower than the national average. In Houston, purchasing a home would cost you $186,800. And the national average is $229,800. Still, 57% of the residents are renting. In case you intend to have Houston as a starting point in your career, renting could be much more convenient and, it will cost you $1,086 per month.
Houston neighborhoods
As in many bigger cities, safety in Houston is average. Both violent crimes and offenses are higher than the national average. So, you may want to check the neighborhoods that are not so exposed to criminal activities. Although, if they are too far from your workplace, you will have to go for other options.
Here are the top Houston neighborhoods:  
Astrodome Area
Washington Avenue Coalition / Memorial Park
Kingwood Area
Memorial
Clear Lake
Once you find the right residence for yourself, all you have to do is give a call to Houston long distance movers. They will plan your move and help you relocate to your new place swiftly and efficiently.
Many consider Austin as one of the best places to live in Texas for young adults
Compared to other cities, Austin is not so big. It is home to 965,872 residents. However, it has a strong, and fast-growing economy. And the job offers considerably increased lately after some of the big companies moved to this city. Austin is because of that, considered to be one of the best places for young adults. The industries in Austin are diverse, such as retail, gaming, wellness, higher education, healthcare film, and tech. Lately, a lot of jobs are opening in transportation, warehousing, and utility industries, as well as in construction. If you feel that Austin could be an excellent choice for you, long distance movers Austin TX will be more than glad to relocate you here. With their assistance, you will reach your new home in record time.
Living in Austin TX
Like in other Texan cities, more people are renting than owning a home. If we check the prices, we can see that the average household price is $358,600. And, in case you are renting, it will cost you $1,346 per month. Moreover, the median household income is $75,752.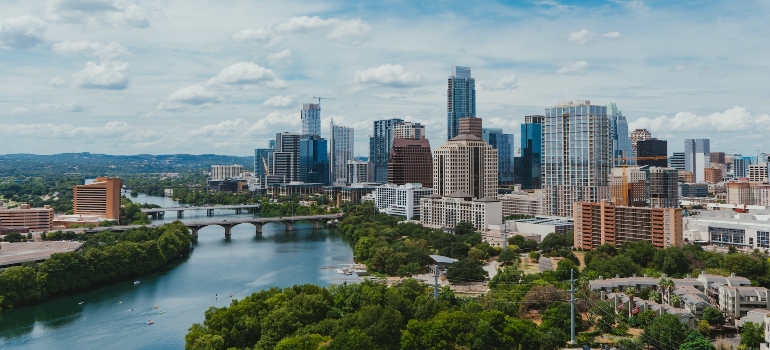 Neighborhoods in Austin which could be the best choice for you
Austin has diverse neighborhoods, therefore, you will most definitely find the one that suits you the most! Here are some of the top ones that you should research:
Old Enfield
Gateway
Downtown
Triangle State
Hyde Park
San Antonio TX is the perfect place to settle down
San Antonio has a population of 1,5 million and is located in Bexar County. It is the second most populated city and a great place for young adults to settle down. Moreover, San Antonio is known as one of the popular touristic destinations. Contrary to other cities, most residents own their homes, while about 46% are renting. It is also one of the Texan cities where making friends is somehow very easy. So, soon after San Antonio long distance moving companies help you relocate here, you will quickly have many new acquaintances.
San Antonio TX is famous for its relaxed way of living. And, adopting such a lifestyle, you will have a good quality rest time, after the long hours spent in the office. San Antonio TX doesn't have so a rich job market like Dallas, or Austin. However, if you are military personnel, San Antonio will be a perfect place for you to move in.
Living in San Antonio
Like in any other place and depending on if you plan to stay longer or not, you can buy or rent. In case you decide to make San Antonio TX your home, you will need about $156,700. And, in case you decide to rent, it will cost you $1,025 a month. The average income in Sam Antonio TX is $53,420.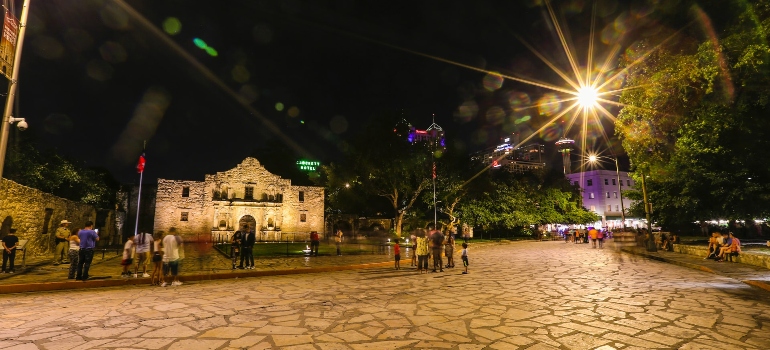 Top San Antonio neighborhoods
Overall, San Antonio TX has average security rates, and some crime rates are higher than the national average. Due to that, choosing the right neighborhood can be essential. However, not all of them will be available for young professionals, at the beginning of their careers. But, without checking, you can't know. Even in the expensive parts of the city, you may find a rather suitable option for yourself. 
The top neighborhoods in San Antonio TX are:
Terrell Hills
Northeast Inner Loop
Oakland Estates
Monte Vista
Fort Sam Houston
New Braunfels has great job opportunities
 New Braunfels is located in Comal County. This Texan town has a population of 84,622. The town's median household price is $237,900. In case you are renting, it will cost you $1,217. The median household income is $71,274, and 62% of residents own their homes. Besides all this, the town's unemployment rate is only 2,9%. So, moving to this place, with the help of long distance movers New Braunfels TX, you won't have a problem finding a good job.
Moving to New Braunfels, you will find yourself surrounded by kind and open people. They have the same welcoming attitude as you can witness in all other parts of Texas. In case you love the nightlife, like most young adults do, don't worry. Although New Braunfels is not as big as Dallas, or Austin TX, you will have many entertainment options. They span from live music venues to excellent restaurants. And, in case you want some more entertainment, visiting bigger events, or venues, in one hour drive you will reach San Antonio where you will have an even bigger choice!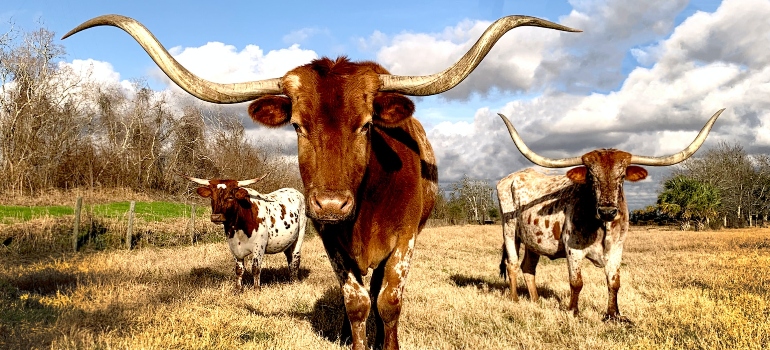 Richmond TX is one of the best places to live in Texas for young adults
Richmond TX is a town and the county seat of Fort Bend County. It is located within the Houston–The Woodlands-Sugar Land metropolitan area. You can have a job in Houston and live here. This is a great way to escape from the hustle and bustle of a big city and relax. The town has 12,592 residents, most of whom own their homes.
The median house price in Richmond TX is $172,400, and, if you are renting, the cost will be $934. The median household income is $50,980. In case you want to move here give a call to long distance movers Richmond. There is no better way to move stress-free than with a professional moving team!
Which place is going to be your home?
Soon after you move to the state of Texas, you will realize one thing. Texans are very proud of their country. So, if you ask them, the best places to live in Texas for young adults would be the whole country. And there could be some truth to that. With welcoming Texans, booming industry, affordable costs of living, and many possibilities for entertainment, you will feel good in all of the places that we have mentioned above. You just need to decide which place suits your lifestyle the best. No matter which of these places you choose to call your future home you will not make a mistake!