Have you ever thought about moving to Manhattan? Living in New York is a dream for many people around the globe. When you say New York, most people think about Manhattan first. It is in every image of the city skyline with its skyscrapers, restaurants on every corner, many different attractions, and ample city parks. This is certainly the tourist capital of the US which attracts almost one million people every year. In addition, this is a home for more than 1,6 million residents. Before hiring state to state movers you need to know that you will be moving to one of the most attractive boroughs in New York. There are many interesting things you should know about Manhattan so keep reading.
Get to know Manhattan
Picking up the right neighborhood for you will impact the quality of life you will have after the move with the long distance movers Long Island has to offer. For this reason, you need to inform yourself well about the area you are moving to before actually getting there. New York City has five boroughs, each with its own districts and even more neighborhoods. Manhattan started to grow in the 19th century and was the main gateway for all the immigrants coming to the US. In addition, manufacturing was the main industry at that time. Over the years, real estate developers started building skyscrapers, and commerce began to develop. Nowadays, this is one of the world's greatest commercial and financial centers.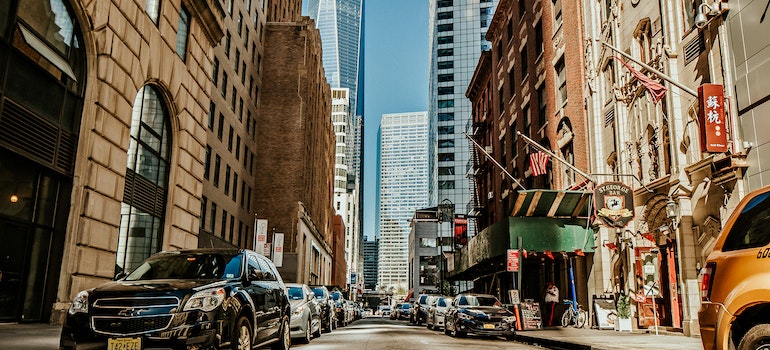 Weather and climate in Manhattan
After moving to Manhattan, you will experience all four seasons. As this is a piece of land surrounded by water, it is pretty wet and humid throughout the whole year. On the other hand, you can experience beautiful mild falls with parks full of colorful leaves. After a nice fall, you can experience a true winter in Manhattan. Before you move here, you need to know that blizzards can sweep the streets of New York. During the winter months, from December to March, you can expect around 25 inches of snow on the streets. The temperatures in this period go to 40 degrees. So prepare to move to a colder climate by buying warmer clothes, especially if you are moving from a place with mild winters.
Be aware of the hot summers and hurricane season
The temperature can be around 75 degrees from May to September. Since Manhattan is a big concrete jungle, the streets can become extremely hot. For this reason, you can find shade in the parks, tree lines, and canopies. Also, the buildings here are close to each other. This can become dangerous during hurricane season when flash floods are frequent. Spring is humid and rainy, so you would definitely need an umbrella when leaving the house. In general, when it comes to weather when moving to Manhattan, you need to have clothes for all four seasons.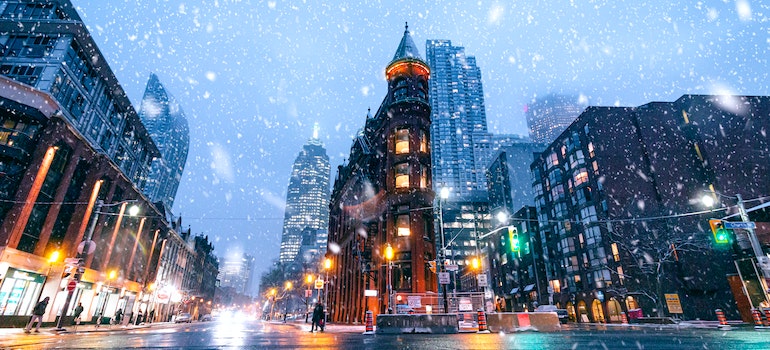 Living in Manhattan is not cheap
This is one of the most expensive boroughs of New York. If you wish to live in such a popular and populated area, you will have to pay a good price for it. The prices for home renting can go up to $5,000 a month. For this reason, many people decide to rent apartments with roommates and thus share renting costs. Even with such large rent prices, most apartments get rented as soon as they reach the market. In general, this is the area of renters. However, that does not mean people in Manhattan do not buy properties. The median price of homes currently is more than $775,000 and can go up to millions of dollars. If you own a unit, it also has maintenance fees which can add additional hundreds or thousands of dollars to your monthly budget.
Food and groceries are expensive
Renting or buying a home in Manhattan is not the only expensive thing. Apart from that, food, groceries, and utility costs are higher than in the other boroughs. In addition, dining in some of the numerous local restaurants is pricier than the national average. On average, Manhattan residents spend around $500 on groceries a month. The second issue people face is how to go through the crowd and bring all those items home. Before you book your long distance movers in NYC, you need to know that in Manhattan, you can pay for a single drink from $12 to $18. If you are not lucky enough to live near a trader Joe's or Costco, try to buy some fruits and veggies from little vendors that are set up on corners. They are much cheaper.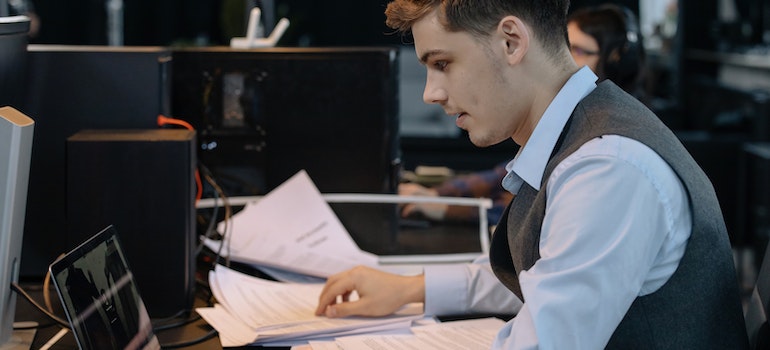 Manhattan offers great public transportation
Manhattan has a pretty organized and stellar public transportation system. If you do not own a car, that is not a problem. There is a huge network of buses, cabs, and, most of all subway. Most people use the Metropolitan Transportation Authority (MTA). This is a public subway and bus system that runs from Manhattan to all other areas of New York. The best thing is that New York has an affordable public transportation system. If you wish to ride to any part of the city, you will need to own a Metrocard. For less than $3, you can take the subway or bus and travel from lower to upper Manhattan in no time.
Owning a car can give you hard times
When it comes to owning a car in Manhattan, its residents say it is better not to. The main reason for this is that you will hardly ever find a parking space in this borough. Therefore, before moving here with Houston long distance movers, you need to know that driving can be particularly difficult. In addition, parking is very expensive, and you must comply with some special parking rules. For example, even if you find a parking spot, you will need to move your car the next day. If you still want to move here with your car, rent a garage space as you will likely only use it for trips outside the city.
New Yorkers make the most of their space
When living in Manhattan, you will not always have the option to rent a spacious apartment. In addition, not every building has an elevator. For this reason, Manhattan residents learned how to get the most from their space. They would rather downsize their belongings than pay more for rent. Then they rent storage units where they can keep a great deal of their stuff. Manhattanites are also great at maximizing their living space. If you plan to live here, prepare to use every inch of your closet or other free space around your apartment. People can set up their whole apartment in just a 90-square-foot micro-studio.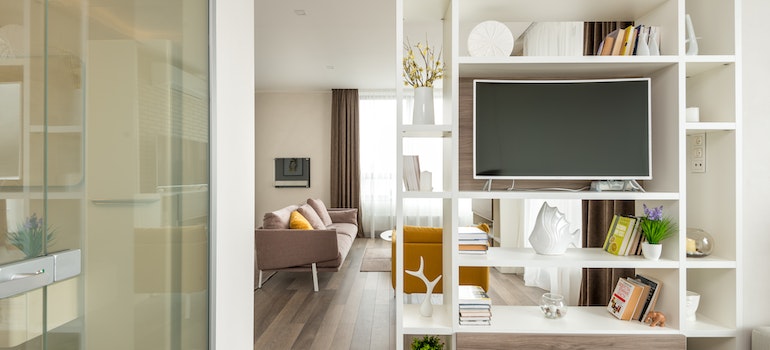 Rooftops are the best escape in the city
By this, I don't refer to overpriced rooftop bars. All apartment buildings have them, so you may or may not be allowed up there, but if you happen to get access to your own apartment or at a friend's place, there's no better spot to be on a warm night. You'll feel like you own the city.
Privacy: What's That?
There's very little privacy living in Manhattan, and that's something you just have to accept. Apartments are stacked on top of each other. You're going to hear your neighbors. There are always people walking on the streets at all hours, and they are not afraid to offer you their opinion if they overhear your conversation. Of course, this is not always a bad thing. Even some restaurants have dinner table next to each other so that you feel the people next to you is listening.
Relationships are hard to maintain
Generally, people tend to move to New York for short-term periods to go to school, for a job, or just for a change of pace. It's easy to make friends, but you will be surprised that your routine will allow you to keep just a handful of them. If you are moving from Texas to New York, don't even get started with dating or relationships. that's why people say, "No one moves to New York to find love". People in New York think of marriage as something that would get in the way of their careers.
There is something for anyone when moving to Manhattan
Whether you want to spend a day in the park, learn something new in a museum, or visit a fantastic art gallery, you can do it all after moving to Manhattan. The giant billboards of Times Square attract people from all over the world. Also, you can find some fantastic snack trucks while walking around Central Park. There are many different attractions that you can see around Manhattan. Some of them are the Statue of Liberty, the Empire State Building, and the One World Trade Center.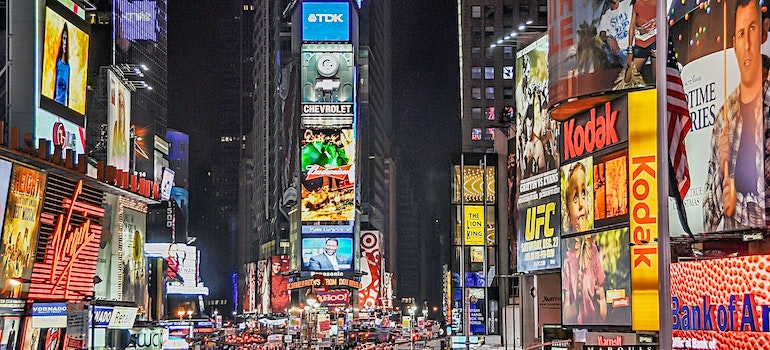 Check out some of the most famous museums and art galleries in Manhattan
Manhattan is the world cultural center, and there is truly something for everyone seven days a week. Some of the most famous museums and art galleries that you can visit in this part of the city are:
Metropolitan Museum of Art
American Museum of Natural History
Museum of Modern Art
Morgan Library & Museum
Guggenheim Museum
Moving to Manhattan means moving to a foodies' heaven
Just like all other aspects of living, Manhattan has an incredible food scene. Whether you wish to taste some food in the local family-owned restaurant that has been there for decades. This is certainly the place to be if you want to try many new restaurants with world-famous chefs and menus. You can try Italian, Chinese, or any other world cuisine that you can think of at various unique locations. Contact Houston interstate movers and come here to try different pizzas, pastrami, cheesecake, or bagels. In addition, you can taste Jewish delis like Katz's Delicatessen in lower Manhattan.
Staying healthy here is such a mission! There are so many restaurants and cheap food options (dollar pizza in every corner, drink specials, Falafels; so joining a Gym might not be a bad idea at all! You'll find it difficult, though, to stay away from Indian food and beer. Just try to find a balance.
The city that never sleeps
Young people in Manhattan love going out. You'll quickly discover this as soon as you move to New York. You'll be shocked at the number of bars, clubs, happy hours, and free events. New York bears the name of a city that never sleeps for a good reason. Different neighborhoods in Manhattan offer various kinds of activities. If you want to party all night, you should go to the East Village. There are lots of live music performances at Webster Hall. No matter your age or style, you can easily find a fun place. If you move here and like to go out, pace yourself because too many parties can get you out of the real reasons you moved there.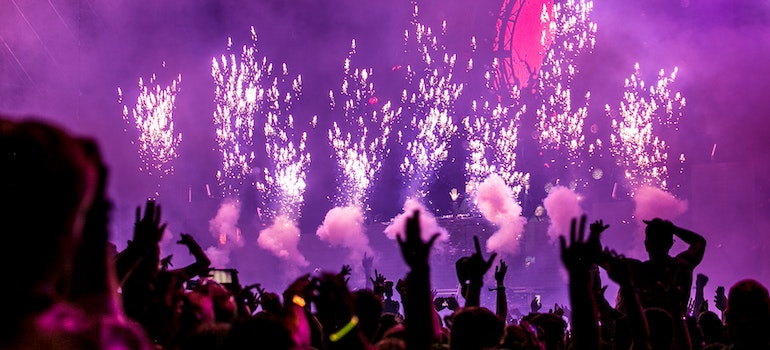 Manhattan is the place to be!
Moving to Manhattan may come with a bigger price tag. However, there is certainly no such place where you can have as many opportunities as you can in Manhattan. If you wish to move to a beautiful, fun, busy, and exciting area, pack your boxes, and become a Manhattan resident!
References:
https://www.niche.com/places-to-live/new-york-city-ny/