Are you eyeing Dallas as your next home, or perhaps you're already a resident seeking to stretch your dollars further? You're not alone. With the escalating cost of living, more and more people are seeking advice on affordable living in Dallas. We're here to guide you through this landscape, offering a roadmap to budget-friendly solutions that don't sacrifice your quality of life. Whether you're working with interstate moving companies for a fresh start, or just looking to make your paycheck go further in this vibrant Texan city, this guide can assist. We'll cover everything from housing to groceries and entertainment, offering tips to make Dallas living comfortably affordable.
Breaking down the cost of living in Dallas
Dallas, a city known for its southern charm and booming economy, offers an appealing lifestyle at a cost that is just 2% above the national average. The longstanding cross country movers Dallas residents love can help you with moving but also with getting a feel for the average expenses:
Housing: The most significant chunk of your budget, the median home price in Dallas sits around $275,000, while the average rent for an apartment is approximately $1,250 per month.
Transportation: If you own a car, expect to spend about $709 per month, including gas, insurance, and maintenance. Public transit is a cheaper alternative, with monthly passes averaging $80.
Groceries: Food costs in Dallas are on par with the national average. For a household of two, expect to spend around $330 a month on groceries.
Healthcare: An individual Dallasite spends roughly $375 per month on healthcare costs.
So, what does this mean for you? To live comfortably in Dallas, an annual income of around $65,000 should suffice for a single person. This estimate includes expenses like housing, transportation, food, healthcare, and a few leisure activities.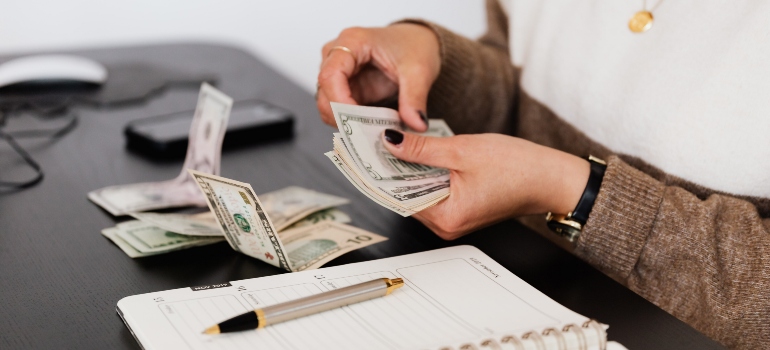 Affordable neighborhoods in Dallas worth checking out
For affordable housing in Dallas, several neighborhoods stand out. They offer reasonable costs while still providing a high quality of life.
Consider Pleasant Grove. With a median home sale price of around $175,000, this neighborhood offers great value for money. It's a short drive from White Rock Lake and a host of local parks, such as Crawford Memorial Park, ideal for outdoor enthusiasts. Essential amenities are reachable along major roads like Lake June Road, and it's just a 20-minute commute to Downtown Dallas via US-175, ensuring convenience and affordability.
Casa View, a neighborhood in East Dallas, has seen significant growth recently, yet it remains an affordable option. Here, the median home price hovers around $225,000. Major streets, like Gus Thomasson Road, serve as commercial hubs. It's also close to White Rock Lake, lush parks, and just a 20-minute drive to downtown Dallas via I-30 making Casa View a desirable yet budget-friendly option.
For apartment dwellers, Vickery Meadow offers a sea of rental options, with an average rent of around $850 per month. The neighborhood is brimming with culinary variety, with eateries representing over 30 nationalities, primarily along the bustling strip on Greenville Avenue. Its central location near NorthPark Center and the DART rail makes commuting and shopping convenient, adding to its appeal.
Similarly, Buckner Terrace is worth a look. With an average home price of $255,000, it provides a suburban feel close to the heart of the city. Its residents enjoy an easy commute, thanks to its convenient location near major highways. It has easy access to I-30 (East R.L. Thornton Freeway) to the north, which connects it to Downtown Dallas, and Highway 352 (Scyene Rd) to the south. It's also close to Highway 78 (Samuell Boulevard) which runs west to east through the neighborhood.
South Dallas is a neighborhood undergoing revitalization. It's currently the cheapest area to live in Dallas, with median home prices around $150,000. Residents benefit from new developments and an improving local economy.
To rent or buy in Dallas – a budget-conscious perspective
The decision between renting and buying can hinge on several factors.  Starting with buying, Dallas has a hot real estate market, but there are still affordable options for those willing to explore. The advantage of buying is that it offers long-term financial benefits like equity and potential value appreciation. However, the upfront costs, such as down payment and closing costs, can be daunting. Not to mention, homeowners are responsible for maintenance costs.
Renting, on the other hand, provides flexibility and fewer upfront costs. There's no need to worry about property taxes, insurance, or maintenance as these are typically covered by the landlord. Renters can also move more easily, a benefit the long distance movers Dallas has to offer know well. Yet, it's essential to consider that rent prices can increase over time and there's no return on investment as with home ownership.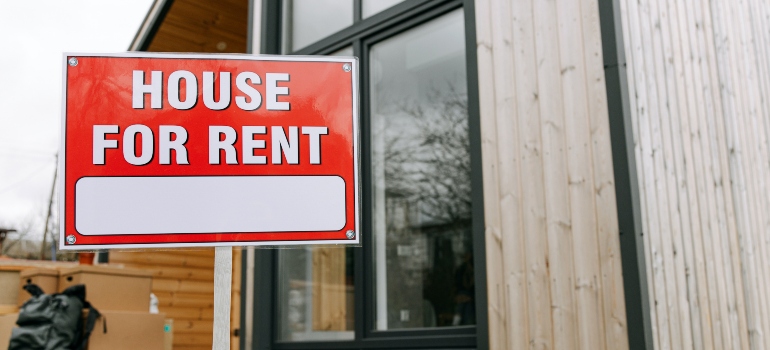 Currently, the median rental price in Dallas stands around $1,250, while the median home value is roughly $275,000. It means you'll need to evaluate your financial situation and plans for the future. As for the most affordable rental areas in Dallas, two neighborhoods stand out: Lake Highlands and Oak Cliff. Lake Highlands, located in the northeastern part of Dallas, offers a suburban feel with an average rent of around $900. Oak Cliff, a culturally rich neighborhood south of downtown Dallas, provides a range of rental options, from charming historical homes to modern apartments, with average rents below $850.
Eat well, spend less with budget-friendly grocery shopping in Dallas
One aspect of affordable living in Dallas that's often overlooked is the grocery bill. But with smart shopping strategies, you can stretch your food budget while enjoying a variety of fresh and tasty options. It's good to know that Dallas grocery prices are generally around the national average. A monthly grocery bill for a household of two in Dallas tends to be around $330. So, how can we make the most out of this?
Begin with discount grocers like Aldi, which offers quality products at lower prices. Buying in bulk at warehouse stores like Costco or Sam's Club can also yield significant savings, especially for non-perishable items.
Embrace local farmers' markets. The Dallas Farmers Market, White Rock Farmers Market, and Four Seasons Market offer locally grown produce, often at prices lower than supermarket rates. Plus, you're supporting local farmers.
Another tip is to check out ethnic grocery stores. Neighborhoods like Vickery Meadow house a variety of ethnic supermarkets where you can find unique, affordable ingredients. Spots like Hong Kong Market Place and El Rancho Supermercado are worth exploring.
Consider also utilizing food co-ops. Dallas has initiatives like Bonton Farms and Good Local Markets that focus on providing affordable, healthy food to local communities.
Planning your meals and sticking to a grocery list can further help prevent impulse buying. It's also wise to keep an eye out for sales and discounts, and don't forget to use those loyalty cards!
Delivery services can also be an excellent option, particularly for those who have recently utilized moving services out of state Texas. While there might be a delivery fee, it can save you time and potentially reduce impulse purchases.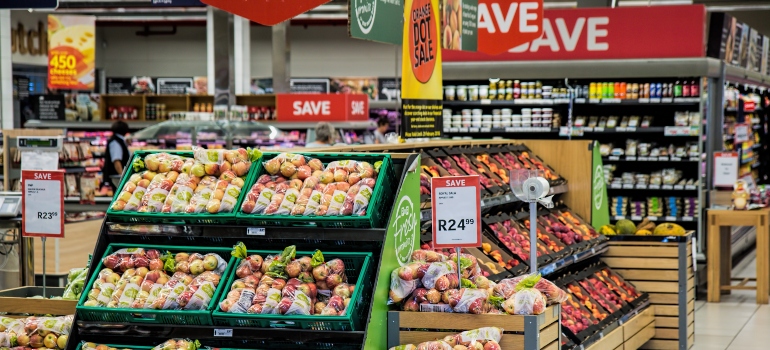 Savoring Dallas on a dime- affordable dining options
Dallas is a food lover's dream, boasting a wealth of diverse culinary experiences. But dining out doesn't have to break the bank. With a little know-how, you can make friends in Dallas, enjoy the food scene and stay within budget.
The city of Dallas has a vibrant food truck scene, and it's an affordable way to enjoy a meal. Areas like Klyde Warren Park host food trucks offering everything from gourmet grilled cheese to authentic Mexican fare. There are also plenty of budget-friendly ethnic restaurants. Head to La Banqueta in East Dallas for mouth-watering, wallet-friendly tacos, or explore the flavorful Indian cuisine at Spice In The City Dallas, located downtown.
Comfort food enthusiasts can find affordable options, too. Check out Norma's Cafe, a Dallas staple since 1956, serving generous portions of home-style meals at reasonable prices. For those after a quick, healthy meal, consider spots like Start Restaurant, offering natural, organic food at prices comparable to mainstream fast food chains. If you're a pizza lover, you can enjoy delicious, low-cost slices at places like Serious Pizza in Deep Ellum. They serve up giant pizzas that are perfect for sharing.
Happy hours also offer great value. Many Dallas restaurants, like The Rustic or Uchi, have amazing happy hour menus, allowing you to sample their offerings at a fraction of the regular price. Another tip for affordable dining is to try lunch specials. Many higher-end restaurants offer reduced-price lunch menus, which is a fantastic way to experience gourmet dining without the hefty price tag. And don't overlook the value of a good breakfast. Cafes like AllGood Cafe and Bubba's Cooks Country offer hearty, affordable breakfasts to start your day right.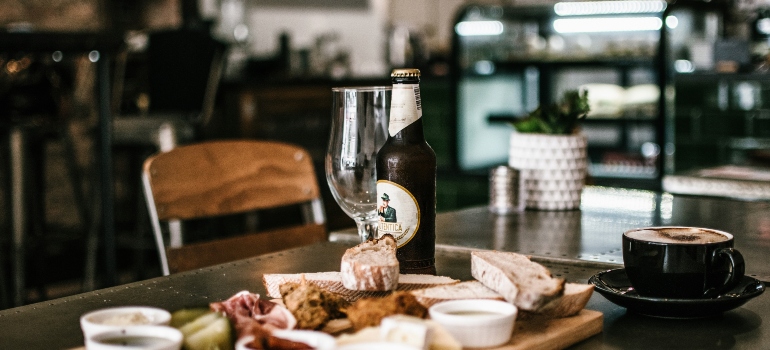 Dallas is a great city for families and singles alike
Whether you're a family or a single individual contemplating moving from Miami to Dallas, this city has plenty to offer both demographics from an affordability and lifestyle perspective.
For families, Dallas shines with a range of amenities. Neighborhoods like Lakewood and Park Cities are particularly sought-after for their strong school districts. The city is also filled with family-friendly parks, such as Klyde Warren Park, White Rock Lake, and the Dallas Arboretum, giving you the opportunity to spend quality family time outdoors. Plus, Dallas has world-class family attractions like the Perot Museum of Nature and Science, the Dallas Zoo, and the Dallas World Aquarium. The suburban areas, such as Plano or Frisco, provide a quieter, more family-oriented environment, while still being within commuting distance of the city center.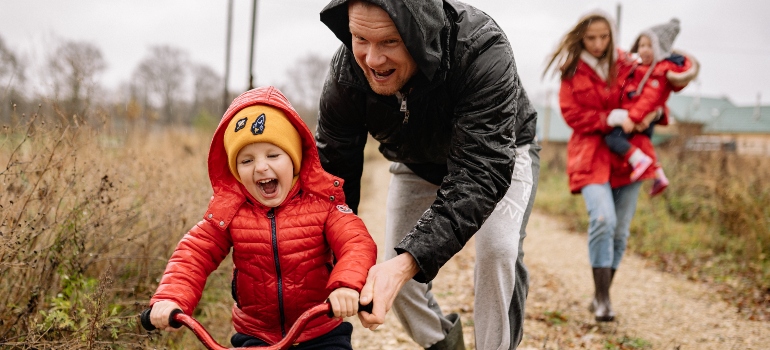 For singles, Dallas offers a vibrant social scene, a diverse culinary landscape, and a thriving job market, particularly in sectors like technology and healthcare. Areas like Deep Ellum and Uptown are especially popular among young professionals for their mix of affordable apartments, nightlife, and proximity to downtown. Venues like the Dallas Museum of Art and the AT&T Performing Arts Center further enhance the city's appeal for young adults.
Healthcare costs are an essential part of living affordably in Dallas
Whether you're considering a move from Houston to Dallas or already reside here, understanding and managing healthcare costs can significantly contribute to affordable living in the city. Dallas, like most cities in Texas, has healthcare costs slightly above the national average. An office visit to a primary care doctor averages around $105, and a visit to a specialist can reach up to $150. The average monthly premium for health insurance in Texas is around $470 for a 40-year-old.
For prescription drugs, costs can vary widely depending on the medication. It's advisable to use resources like GoodRx to compare local prices and find the most affordable option. While these numbers might seem high, Dallas offers numerous resources for those seeking affordable healthcare. Dallas County has various community clinics offering low-cost or even free services, like Los Barrios Unidos Community Clinic or Foremost Family Health Centers. Parkland Health & Hospital System, Dallas County's public health system, provides care on a sliding scale based on income, making it an affordable option for many. They also offer the Parkland Financial Assistance program for Dallas County residents meeting certain income criteria. Navigating health insurance can be daunting, but resources like the Community Council of Greater Dallas can help individuals find and apply for suitable insurance programs.
Remember, preventive care can help manage healthcare costs in the long run. Regular check-ups and a healthy lifestyle can reduce the risk of costly medical problems down the line. It's also wise to consider a Health Savings Account (HSA) or Flexible Spending Account (FSA) if they're available to you. These accounts let you set aside pre-tax dollars for healthcare expenses, effectively reducing the cost.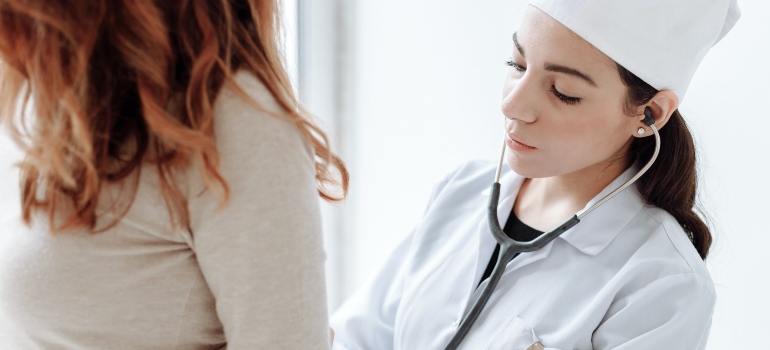 Embracing affordable living in Dallas
Dallas, with its economic growth and diverse cultural scene, offers plenty of opportunities for a balanced lifestyle. It's true that some aspects of life here may slightly exceed the national average but with a touch of resourcefulness, affordable living in Dallas is within reach. From housing in budget-friendly neighborhoods to cost-effective grocery shopping and dining, Dallas delivers various options for every budget. It also offers a range of services and initiatives to help residents manage healthcare costs. Whether you're a family, a single, or somewhere in between, Dallas holds promise for a quality life that doesn't break the bank.