Moving long-distance is an important life event. It is only logical that you want to be as prepared as possible for this endeavor. But, we know how life gets- you get immersed in your work, procrastinate a bit and moving day sneaks up on you. To avoid this scenario, it's crucial to start planning your move on time. And with State to State Move, your relocation will be even smoother. If you have to move on short notice, or you just want to stay on top of all moving tasks, check out our tips! We are sharing the best hacks for saving time when moving long-distance.
Saving time when moving long-distance is not as hard as you'd think
Who doesn't like a valuable time-saving hack or two? They come in handy, especially when you have a relocation to another state ahead of you. Long distance movers Texas offers can make your relocation enjoyable and seamless, but there are also things you can do to facilitate your mover even more. Here are some suggestions for saving time when moving long-distance:
start planning your relocation as soon as you find out where you'll be moving to and when
let go of the items you won't need in your new home
make an inventory of your belongings
label your boxes
hire professional long-distance movers
Plan your relocation meticulously to save time
Start planning your relocation to New Braunfels as soon as you set the moving date. Long-distance moving is exhausting and lengthy, and you will need the process to be as organized as possible. If you like projects and organizing events, you will enjoy doing it for your relocation. However, if that's not your cup of tea you might be reluctant to do it. But, don't let yourself procrastinate! Take a piece of paper and pen, or make an Excel spreadsheet and put down all the moving tasks that need to be done and the timeframe you have to complete them. That way, when long distance movers New Braunfels TX arrive, you will be all set and ready to move. Planning is the key to a successful relocation!
Don't move all your belongings to your new home
The thing that takes the most time when you move is packing. Keep that in mind when you start packing your household. The fewer items you pack, the faster you'll be done- so if you want to save time when moving, try to get rid of some things you don't use anymore. You can donate things to Goodwill that you haven't used in a while, they would just clutter your new home anyway. And why make a mess in your brand new place, if you can do a good deed and de-clutter at the same time. Sort your possessions in piles, and decide what you want to give away, what you can sell, and what is only good for the trash. You can organize your belongings at the same time, so you'll be killing two birds with one stone!
Make an inventory of your household items
Making an inventory of your belongings is a good idea when you're moving long-distance because that way you can keep track if anything got lost in transit or forgotten. Make a detailed list with all the items you possess, their approximate worth, and which box you put them in. With such a system you will be able to track any item with ease and make sure that you've brought all the belongings to your new house. Just like with the moving plan, you can opt for pen and paper or if you're tech-savvy an Excel spreadsheet.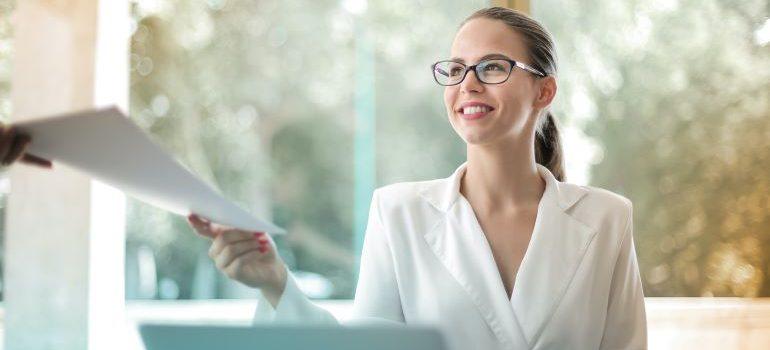 Label your boxes neatly
It might seem counter-productive to spend time labeling boxes, but that task can save you a lot of time in the moving process. Not only will you and your movers know where to put the boxes in your new home, but you will significantly cut down the time it will take you to unpack. You can choose the labeling system that works for you, from color-coding to buying ready labels or writing directly on the boxes, the decision is yours. If you opt for writing on the boxes, make sure to get a black marker and write in large block letters on several sides of the box. You want your movers to be able to clearly see the writing on the boxes. Don't forget to mark the boxes with fragile items especially carefully.
Professional movers will save you a lot of time when moving to another state
Nothing can save you more time when you move long-distance than having professionals by your side to take care of the entire process. Moving services offer the comfort of not having to lift a finger when it comes to long-distance relocations. Houston long distance moving companies will provide you with a moving plan that will cover all the phases of the process. Their moving team will take care of everything from start to finish, so you won't have to worry about packing last minute or taking a day off from work to buy the moving supplies.
You will enjoy your long-distance relocation with our time-saving tips
Having a swift and easy relocation to another city or state is the goal. With a few simple tips and good time organization, your move will fly by. It's key to find the tips for saving time when moving long-distance that work for you. Not everyone loves labeling boxes or making moving plans, but you can always hire movers to do it for you. Booking professional moving services is your safest bet at the end of the day. With a reliable and reputable moving company, even the farthest move will be memorable and pleasurable!