Many homes feature a spare room, which is either a storage room or a guest room that is rarely used. Start a repurposing project and change the area into something practical and functional instead of keeping it as is. Once you have finished moving with state to state movers you will have plenty of time to figure out what to do with that space. For a spare room, there are a variety of uses, from a hobby room to a home office. Therefore, let's have a look at a couple of ideas for spare rooms in your new home.
Convert a room into a study
A study nook might be a lifesaver whether you're a stay-at-home parent or work-from-home professional. It makes it easier to concentrate on the work at hand. We can see how the items needed for this project are neatly arranged on the shelves, allowing for a clutter-free workspace.
Make it a home office
If you do a lot of work from home, you may want to consider turning a spare room into a home office after moving from Texas to Georgia. There are no distractions and everything you need is in one area, so you can concentrate on your task. Your workspace should reflect your personality so that you feel at ease and motivated. This is just one of the many ideas for spare rooms in your new home.
Transform it into a music studio
As a musician, do you enjoy messing around with different musical genres? Starting your own podcast may have always been a goal of yours. If you have a spare room, why not turn it into a home recording studio? Put in your instrument or any other equipment you need for the job, and you're good to go. As the project progresses, you'll be able to invest more money and begin sound-proofing the walls and purchasing better equipment.
Use it as an old fashioned dressing room
Make use of the extra bedroom as an old-fashioned dressing room if you're interested in fashion design. This includes everything from a vanity to a storage area for your shoes and other belongings. As an additional option, you may also include a retro screen.
Create a kids' playroom
If you have children, you may want to consider turning the extra room into a children's playroom. Toys may be kept neatly arranged, and a large play area can be created for them where they can be active and have fun. To make sitting on the floor more comfortable, consider purchasing a wide-area rug that covers the whole floor. Make sure there are enough arts and crafts items in the room in case of inclement weather. Ideas for spare rooms in your new home can make use of many different things that you prioritize.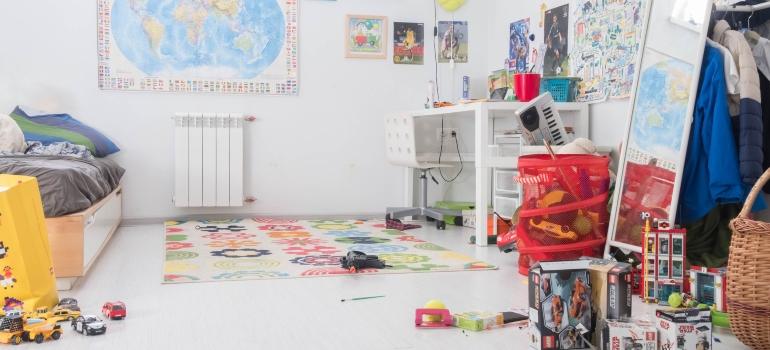 Make it into a home theatre
A home theater is another excellent choice for a spare room, but one with a bigger price tag. All the bells and whistles: a big screen TV, surround sound, comfy sofas or loungers. This room appears to be the perfect spot for a night in with a nice movie.
Use it as an artist's studio
Setting up an artist's studio in a spare room is a simple and cost-effective solution. Make it a spot where you may relax and recharge your creative batteries, away from the commotion of daily life. We can see here that the studio is well-lit thanks to the abundance of greenery and the large windows that allow in natural light. Organize all of your easels, canvases, and paints in one location.
Turn the whole room into a closet
Do you have a problem with a lack of storage space in your bedroom? Is your closet overflowing with stuff, or do you need additional floor space in your bedroom by getting rid of your dresser? Make use of the extra space in your home by converting it into a walk-in closet. Racks for hanging clothing and shoes are plentiful, and there is even a cabinet on wheels for accessories in the center of the room. If you have enough clothes for a whole closet, hiring Austin interstate movers is a good idea before you move. They will safely transfer all your stuff.
Setting up a fun activity room is one of the ideas for spare rooms in your new home
It is possible to turn a large spare room into an activity and games area. You don't have to keep utilizing the kitchen table for board games if you have a huge table. To keep all of your games organized, build a ton of shelves. A ping pong table or a foosball table may be added if that's what you want. It's important to make sure you have enough area to maneuver about the table, so take some measurements beforehand.
Make it a guest room
There is a chance that you may choose to maintain your spare room as a guest room if you still have regular visitors. This room doesn't have to be boring. There are many guest bedroom ideas that you can use in order to make this room fun and interesting. However, this does not necessitate that the remainder of the time the room be useless. The guest bedroom may be made more functional even when no guests are staying by setting up a study area with a desk in a corner.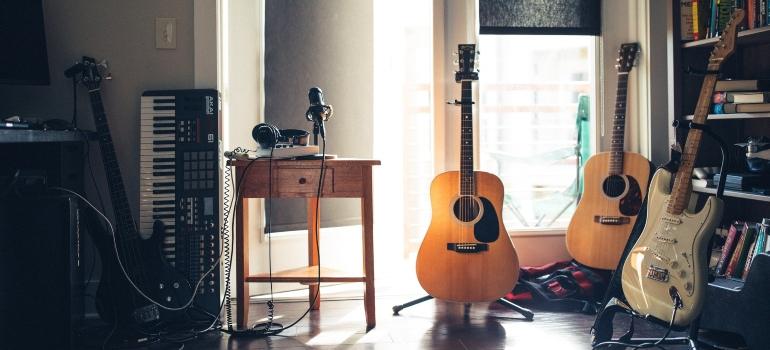 Make a very beautiful home garden
Modify your spare room into an indoor garden and it will be just as, if not more rewarding as normal outdoor gardens, specifically if you can control the temperature and light coming in. The most awesome part of an indoor garden is that you never have to worry about cold weather and you can get a lot of fruits and vegetables, and herbs all year round. If you have been using this room to store your items, consider renting storage. There are many companies that provide storage services. This way you will remove the clutter and get to fully enjoy your beautiful home garden.
Conclusion
There is no need to fill a spare room with boxes and clutter, or leave it unused at all, as you can see from this example. There are countless ideas for spare rooms in your new home for repurposing the area and transforming it into something both aesthetically pleasing and functional. There's no limit to the alternatives! A creative room for a pastime like yoga, working out at the gym, or doing crafts may be possible in this area. It's also possible to turn the extra room into an office area for days when you're working from home or when your children are doing their schoolwork without interruptions.